AKTIVITAS DAKWAH FARDIYAH DALAM TINJAUAN PSIKOLOGI
Enung Asmaya

STAIN Purwokerto
Keywords:
Da'wa fardiyah, interpersonal communication
Abstract
Da'wa fardiyah activity is an effort to invite human beings to behave according to the guidance from Allah in order to achieve khoirul bariyyah, khoirul usroh, and jama 'a. Since the mission of da 'wah is to send a messege from a da'i to the addressees (ma'du), the process of da 'wa has the similarity with the interpersonal communi- cation system. As a discipline, da 'wa cannot be separated from other disciplines as psychology. This will help the actualization of good da 'wa activities.
Downloads
Download data is not yet available.
References
A. Hasyimi, Dustur Dakwah Menurut al-Qur 'an, Jakarta; Bulan Bintang, Cet Pertama, 1974.

'Abdul Baqi, Muhammad Fuad, al- Mu'jam li alfadi Qur'an al- Karim, Indonesia: MaktabatuDahlan.

A. Supratiknya, Mengenal Prilaku Abnormal, Yogyakarta: Penerbit Kanisius, 1995, Cet kesembilan.

_____________, Komunikasi Antarpribadi Tinjauan Psikologis,
Yogyakarta: Penerbit Kanisius, 1995.

Clark, Walter Houston, The psychology ofReligion, The Macmillan, Canada, 1969.

Dister Ofm, Al- Raghib, Asfahani, Mu'jam Mufradat liAlfazh al- Qur 'an, Beirut: Dar al-Fikr, tt.

Fath al-Bayanuni, Muhammad Abu, al-Madkhal ila 'IlmiDa'wah, Mu'asasah ar-Risalah, 1991.

Jalaluddin, Psikologi Agama, Jakarta: PT Raja Grafindo Persada, 1997, Cet kedua.

Mubarok, Ahmad, Solusi Krisis Keruhanian Manusia Modem Jiwa dalam al-Qur 'an, Jakarta: Paramadina, 2000, cet pertama.

Mahmud, Ali Abdul JUalim,Dakwah Fardiyah Metode Membentuk Pribadi Muslim, Jakarata: Gema INsani Press, 1995.

Natsir, M, Fiqhu Dakwah, Semarang: YKPI Ramadhani, 1984.
Nico, Syukur, Pengalaman dan Motivasi Beragama, Yogyakarta: Kanisius.

Rahaijo, M. Dawam, Ensiklopedi al-Qur 'an Tafsir Sosial Berdasarkan Konsep-Konsep Kunci, Jakarta: Paramadina, 1996, Cet pertama.

Rosyidi, Dakwah Sufistik Kang Jalai, Menentramkan Jiwa, Men-cerahkan Pikiran, Jakarta: KPP Kelompok Paramadina, 2004, Cet pertama.

Tasmara, Toto, Komunikasi Dakwah, Jakarta.: Gaya Media Pratama, Cet pertama.

Rakhmat, Jalaluddin, Psikologi Komuikasi, Bandung: PT Ramaja Rosdakarya Offset, 1998, cet keduabelas.

Shihab, M Quraish, Tafsir al-Misbah, Pesan, Kesan dan Keserasian al-Qur 'an, Volume 2 (surah ah Imran, Surah an-Nisa), Jakarta: Lentera Hati, 2000.

Shaqr, Abdul Badi, ' Kaifa Nad 'u al-Nas, Kairo, Maktabah Wahbah, 1976.[]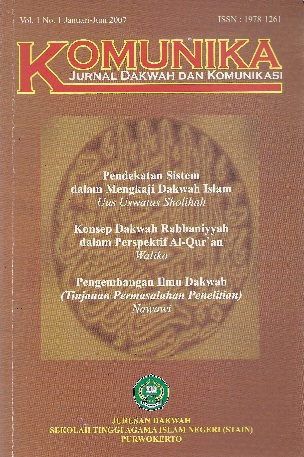 How to Cite
Asmaya, E. (2016). AKTIVITAS DAKWAH FARDIYAH DALAM TINJAUAN PSIKOLOGI. KOMUNIKA: Jurnal Dakwah Dan Komunikasi, 1(1), 99-114. https://doi.org/https://doi.org/10.24090/komunika.v1i1.783
Authors who publish with this journal agree to the following terms:
Authors retain copyright and grant the journal right of first publication with the work simultaneously licensed under a Creative Commons Attribution-ShareAlike 4.0 International License that allows others to share the work with an acknowledgement of the work's authorship and initial publication in this journal.
Authors are able to enter into separate, additional contractual arrangements for the non-exclusive distribution of the journal's published version of the work (e.g., post it to an institutional repository or publish it in a book), with an acknowledgement of its initial publication in this journal.
Authors are permitted and encouraged to post their work online (e.g., in institutional repositories or on their website) prior to and during the submission process, as it can lead to productive exchanges, as well as earlier and greater citation of published work (See The Effect of Open Access).
Abstract viewed = 350 times PDF downloaded = 377 times