Hakikat Manusia dalam Tasawuf Al-Ghazali
Keywords:
Hakikat Manusia, Imam Al-Ghazali, Ma'rifatullah, An-Nafs Al-Mutmainnah
Abstract
Sufism is one of the Islamic sciences that specifically addressed the inner truth of a man (hakikat). Human existence is very dependent on the inner side, from this, human could be directed into a positive (taqwa) or negative person (fujur). Moreover, study of this hakikat is usually done through a sufistic approach. Some of the well-known Sufi figures whose worthy of research is Abu Hamid Muhammad al-Ghazali ath-Thusi asy-Shafi'I, commonly called Imam al-Ghazali. The study of the hakikat conducted by Ghazali is very influential on the Islamic world and in fact modern-west. This study uses library research approach using books and literatures on his thoughts especially related to the subject of a man and Sufism. Result from this study shows that according to Ghazali, the concept of hakikat or the inner truth is posits inside an integrated individual soul and body, the soul as determinant of life and body as a container of the soul. If someone's soul is clean (taqwa) then the body is also become clean (taqwa) and vice versa if his soul is dirty (fujur) then the body is become negative (fujur). Hakikat would be appeared when a man become a ma'rifatullah . The attainment of the soul into ma'rifatullah stage must go through three processes. firstly takhalli , secondly, tahalli and tajalli and the third is al-nafs almuthma'innah which means having a calm and peaceful soul to be always together with the eternal substance.
Downloads
Download data is not yet available.
References
Al-Ghazali. (2000). Minhaj al-'Abidin (terj), Menuju Mukmin Sejati. Bogor: Yayasan Islamic Center al-Ghazali.
Ali, Y. (1997). Manusia citra ilahi: pengembangan konsep insan kamil Ibn Arabî oleh al-Jîlî. Paramadina.
Amrullah, K. (1994). Tasawuf Perkembangan dan Pemurniannya. Jakarta: Pustaka Panji Mas.
Ghazali, I., Ulumudin, I., & Jilid III, J. I. (1986). Ihya'ulumiddin, terj. Ismail
Ya'kub, (Singapura: Pustaka Nasional, 2003). Hamka. (1960). Tasauf modern. Djajabakti.
Mubarok, A. (2000). Jiwa dalam al-Qur'an: solusi krisis keruhanian manusia modern. Penerbit Paramadina.
Nata, A. (2000). Akhlak tasawuf. Manajemen PT RajaGrafindo Persada.
Quraish Shihab, M. (1998). Membumikan al-Qur'an. Bandung: Mizan, 1419.
Rakhmat, J., & Surjaman, T. (1999). Psikologi komunikasi . Remaja Rosdakarya.
Shihab, M. Q. (2002). Tafsir Al-Misbah Juz A'Amma. Jakarta: Lentera Hati.
Supriyadi, D. (2009). Pengantar Filsafat Islam (Konsep, Filsuf, dan Ajarannya). Bandung: CV. Pustaka Setia.
Tiam, S. D. (2014). Historiografi Filsafat Islam. Malang: Intras Publishing.
Tim, K. (2001). Kamus Besar Bahasa Indonesia. Jakarta: Gramedia Pustaka Utama.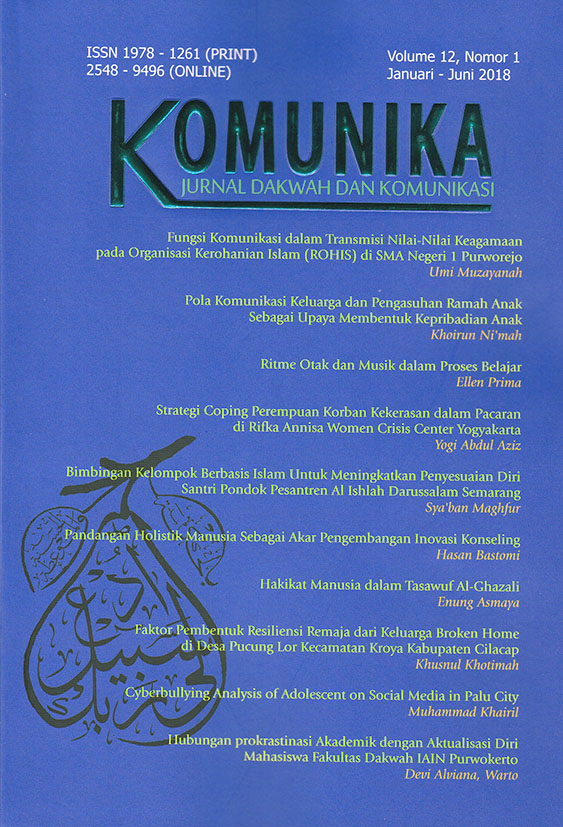 Downloads
How to Cite
Asmaya, E. (2018). Hakikat Manusia dalam Tasawuf Al-Ghazali. KOMUNIKA: Jurnal Dakwah Dan Komunikasi, 12(1), 123–135. https://doi.org/10.24090/komunika.v12i1.1377
License
Authors who publish with this journal agree to the following terms:
Authors retain copyright and grant the journal right of first publication with the work simultaneously licensed under a Creative Commons Attribution-ShareAlike 4.0 International License that allows others to share the work with an acknowledgement of the work's authorship and initial publication in this journal.
Authors are able to enter into separate, additional contractual arrangements for the non-exclusive distribution of the journal's published version of the work (e.g., post it to an institutional repository or publish it in a book), with an acknowledgement of its initial publication in this journal.
Authors are permitted and encouraged to post their work online (e.g., in institutional repositories or on their website) prior to and during the submission process, as it can lead to productive exchanges, as well as earlier and greater citation of published work (See The Effect of Open Access).