IMPLEMENTASI METODE DAKWAH ISLAM ALA NABI MUHAMMAD SAW DI INDONESIA
Enung Asmaya

STAIN Purwokerto
Keywords:
Da'wa of Prophet Muhammad SAW, Mecca Period and Medina Period, da'wa of Indonesian Islam.
Abstract
Da'wa methodology is an important aspect in Islamic missionary. It formulates, create, and determine the most relevant methods of da'wa in regards with the need of its audience (mad'u). It is necessary for da'wa to have a figure, actor, or agent who is really good at not only performing as an agent of da'wa but also functioning as a guide and consultant. The figure to be referred is Muhammad SAW, who was fully experienced with da'wawhen he lived in Makkah and Madinah. The characteristic of his da'wa was contextual, by which da'wa was implemented in respect to the prevalent social condition. This kind of methodology is the one that should be applied di Indonesia.
Downloads
Download data is not yet available.
References
Al-Qattan, Manna Khalil. 2001. Mabahis fii 'Ulum al-Qur'an (Studi Ilmu-Ilmu Qur'an (terj). Jakarta: Pustaka Litera Antarnusa.

Amin, Samsul Munir. 2010. Sejarah Peradaban Islam. Jakarta: Amzah Bachtiar.

Wardi. 1995. Metodologi Penelitian Dakwah. Jakarta: Logos Wacana Ilmu.

Dasuki, Hafizh dkk. 1994. Ensiklopedi Islam. Jakarta: PT Ichtiar Baru Van Hoeve.

Ilyas, Yunahar. 2007. Kuliah Aqidah Islam. Yogyakarta: LPII.

Hermawan, Acep. 2013. 'Ulumul Qur'an Ilmu untuk Memahami Wahyu, Bandung: Remaja Rosdakarya.

Rakhmat, Jalaluddin. 1999. Psikologi Komunikasi. Bandung: Remaja Rosdakarya.

Suparta, Munzir (Ed.). 2003. Metode Dakwah. Jakarta: Rahmat Semesta.

Syukur, Fatah. 2012. Sejarah Peradaban Islam. Semarang: Pustaka Rezeki Putra.

Tim Penyusun. 1986. Kamus Bahasa Indonesia, cet.IX. Jakarta: Balai Pustaka.

Tim Penyusun. 2007. Nalar Islam Nusantara, Studi Islam ala Muhammadiyah.

Al-Irsyad, Persis dan NU. Jakarta: Departemen Agama Republik Indonesia Direktorat Jenderal Pendidikan Islam Direktorat Pendidikan Tinggi Islam.

Yatim, Badri. 2000. Sejarah Peradaban Islam Dirasah Islamiyah II. Jakarta: Raja Grafindo Persada.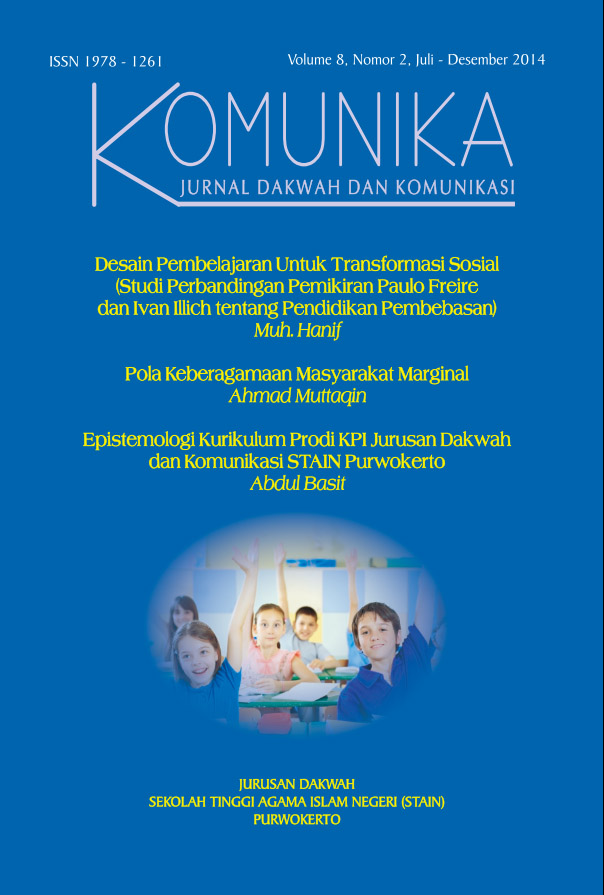 How to Cite
Asmaya, E. (1). IMPLEMENTASI METODE DAKWAH ISLAM ALA NABI MUHAMMAD SAW DI INDONESIA. KOMUNIKA: Jurnal Dakwah Dan Komunikasi, 8(2), 221-242. https://doi.org/https://doi.org/10.24090/komunika.v8i2.757
Authors who publish with this journal agree to the following terms:
Authors retain copyright and grant the journal right of first publication with the work simultaneously licensed under a Creative Commons Attribution-ShareAlike 4.0 International License that allows others to share the work with an acknowledgement of the work's authorship and initial publication in this journal.
Authors are able to enter into separate, additional contractual arrangements for the non-exclusive distribution of the journal's published version of the work (e.g., post it to an institutional repository or publish it in a book), with an acknowledgement of its initial publication in this journal.
Authors are permitted and encouraged to post their work online (e.g., in institutional repositories or on their website) prior to and during the submission process, as it can lead to productive exchanges, as well as earlier and greater citation of published work (See The Effect of Open Access).
Abstract viewed = 538 times PDF downloaded = 2975 times