TRADISI PENGAJIAN KITAB TURÂTS MELAYU- ARAB DI PULAU SERIBU MASJID DAN SERIBU PESANTREN, LOMBOK, INDONESIA
Keywords:
Turath, Malay, Tradition, Culture, Sasak, Lombok
Abstract
This paper focuses on the recitation and preservation of Arab- Malay Turast book reviews in Lombok, West Nusa Tenggara, which clas- sified into four sections: 1) Recitals ( Khalaqah ) 2) Public preaching from The Majelis Dakwah (Islamic Da'wa council) and The Para Tuan Guru's ( Asâtiz) focused group studies ( Majelis Taklim ). 3) Formal material stud- ies at Islamic boarding schools ( pesantren ) 4) Reading of Malay Islamic books by commoner in several religious activities. This study is signifi- cant because, The Arabic-Malay books are considered as a treasure for the Archipelago and yet, it is starting to fade among the Malay Islamic society. This also seen from the more and more lack of interest in speak- ing and writing using Arab-Malay language. Unlike the era of 18-19 cen- tury, where Arabic-Malay is considered as the most important language among the Malay communities, since it was used in communication and media literacy. The most prominent stretch of the Malay Literacy could be seen in the 14th to 16th century where many books are translated, composed or adapted into several languages, includes Malay, Javanese, Sundanese, Bugis and many others. In fact, some Islamic Indonesian au- thors also re-wrote the books with similar style and content closed to the original book. Moreover, the tradition of reading and reviewing Islamic Malay books have long taken place in the midst of society. It was both read on the public preaching or individually, such as the research of the Sabilal Muhtadin fiqh's book by Syeikh Arsyad Banjar; Kitab Perukunan Ibadah Doa dan Zikr (worship, praying and remembrance), Hidayatus Salikin on Sufism; Fiqh's and Sufism's Al-Muhtadi Masa'ilah which is also commonly used in nyaer form (reading the Arab-Malay books in a singsong manner); Qishashul Anbiya ; Kifayah al-Muhtaj; Nur Muhammad , and the story of the Husain bin Ali's killing.
Downloads
Download data is not yet available.
References
'Umari, 'Ali Muhammad. 2002. al-Khilaf baina Abi Hanifah wa Ashabihi wa Mauqif al-A'immah al-Akhari n min Haý a al-Khilaf . Cet. I. Riyad : Maktabah al-'Abikan.
Acim, Subhan Abdullah dan Ahyar. 2011. "The Nyaer Tradition of Kifayat Al-Muhtaj As a Medium Of Propagating Islam In Lombok" dalam Jurnal Penelitian Keislaman , Vol. 7, No. 2, Juni 2011.

Ali, Suryadharma. 2013. Mengawal Tradisi Meraih Prestasi Inovasi dan Aksi Pendidikan Islam . Cet. 1. Malang: UIN Maliki Press.
as-Syafi'i, Muhammad ibn Idris. 1979. ar-Risalah . Kairo: Dar al-Turats.
Bellah, Robert N. 1992. Sociology of Religion . USA: USA Publication.
Bruinessen, Martin van. 1989. Penggunaan kitab Fiqh di Pesantren Indonesia dan Malaysia, Pesantren Vol. VI, No. 1.
Bruinessen, Martin van. 1990. Kitab Kuning: Books in Arabics Script Used in the Pesantren Milieu", Bijdagen tot de Taal- Land en Volkenkunde.
Bruinessen, Martin van. 1994. Pesantren and Kitab Kuning: Maintenance and Continuation of a Tradition of Religious Learning', dalam Wolgang Marshall (ed.), Texts from the Islands Oral and Written Traditions of
Indonesia and The Malay World (Ethnologica Bernica, 4). Berne: University of Berne.
Bruinessen, Martin van. 1996. Kitab Kuning: Pesantren dan Tarikat: Tradisi-tradisi Islam di Indonesia . Bandung: Mizan.
Dahri, Harapandi. 1999. Pemikiran Pembaharuan TGKH. Muhammad
Zaenuddin Abdul Majid . Dalam Tesis. Jakarta: IAIN, t.p.
Zaenuddin Abdul Majid. 2016. "Pengajaran Kitab Turats Melayu Di Brunei Darussalam" . dalam jurnal AL-Fikra: Jurnal Ilmiah Keislaman, Vol. 15, No. 1, Januari–Juni.
Data Statistik NTB. 2015. Data Masjid dan Mushalla di NTB .
Fadhli, Adi. 2016. Pemikiran Islam Lokal Tuan Guru Muhammad Saleh Hambali . Mataram: LEPPIM.
Fahrurrozi. 2015. "Budaya Pesantren di Pulau Seribu Masjid" dalam Jurnal Karsa Vol. II Desember.
Hanafi, Hasan. 2002. Al-Turats, wa al-Tajdid Mauqifuna mi al-Turats al-Qadim . cet V. Al- Mu'assasah al-Jami'iyyah li al-Dirasat wa al-Nasyr wa al-Tauzi'.
Hasan, Husain Hamid. 1971. Nazariyah al-Maslahah fi al-Fiqh al-Islami. Cairo: Dar an-Nahdah al-'Arabiyah.
Hasan, Muhammad Tolhah. 2005. Ahlussunnah Wal Jamaah dalam Persepsi dan Tradisi NU . cet.iii. Jakarta: Lantabora Press.
Hilmy, Masdar. 2013. Pendidikan Islam dan Tradisi Ilmiah . cet. 1. Surabaya: Pustaka Idea.
Irfan, Muhammad. 2012. Digitallib UIN Malang, diakses tanggal 2 September 2016.
Jatisuara, Kiai Serimbang, Eman Beret. 1979. Litbang: Diskripsi Aliran
Kepercayaan Wetu Telu di Pulau Lombok . Jakarta: Departemen Agama RI.
Khallaf, Abdul Wahhab. 1978. Ilm Ushul al-Fiqh . Cairo: Dar al-Qalam.
Mallah, Husain Muhammad. 2001. al-Fatawa: Nasy'atuha wa Tathawwuruha- Ushuluha wa Tathbiqatuha , Juz II. Cet. I. Beirut: al-Maktabah al-'Asriyah.
Mastuki & M. Ishom El-Saha (Ed.). 2003. Intelektualisme Pesantren Potret
Tokoh dan Cakrawala Pemikiran di Era Perkembangan Pesantren . Cet. 1. Jakarta: Diva Pustaka.
Nu'man, Abd Hayyi dan Sahafari Ays'ari. 1988. Nahdlatul Wathan: Organisasi Pendidikan, Sosial, dan Dakwah . Cet. 1. Lombok: Toko Buku Kita.
Salam, Solichin. 1992. Lombok Pulau Perawan: Sejarah dan Masa Depannya . Jakarta: Kuning Mas.
Sulthan, Jamal. 2010. Tradisi dalam Islam. Jakarta: Ciputat Press.
Thoha, Zainal Arifin. 2003. Runtuhnya Singgasana Kyai: NU, Pesantren Kekuasaan: Pencarian Tak Kunjung Usai . Cet. 2. Yogyakarta: Kutub.
Wahyudi. 2013. "Pengertian Turats dan Pembaharuan; Perspektif Hasan Hanafi" dalam Al-Muflihun. Com.
Zayadi, Ahmad. 2015. Kasubdit Pesantren, Direktorat Pendidikan Diniyah dan Pondok Pesantren. Pengembangan Tradisi Akademik Tafaqquh Fiddin
Pada Pesantren . Materi disampaikan dalam bentuk power point di IAIN Mataram 12 September.
Zuhaili, Wahbah. 2001. Usul al-Fiqh al-Islami , Juz II. Damaskus-Suriah: Dar al-Fikr.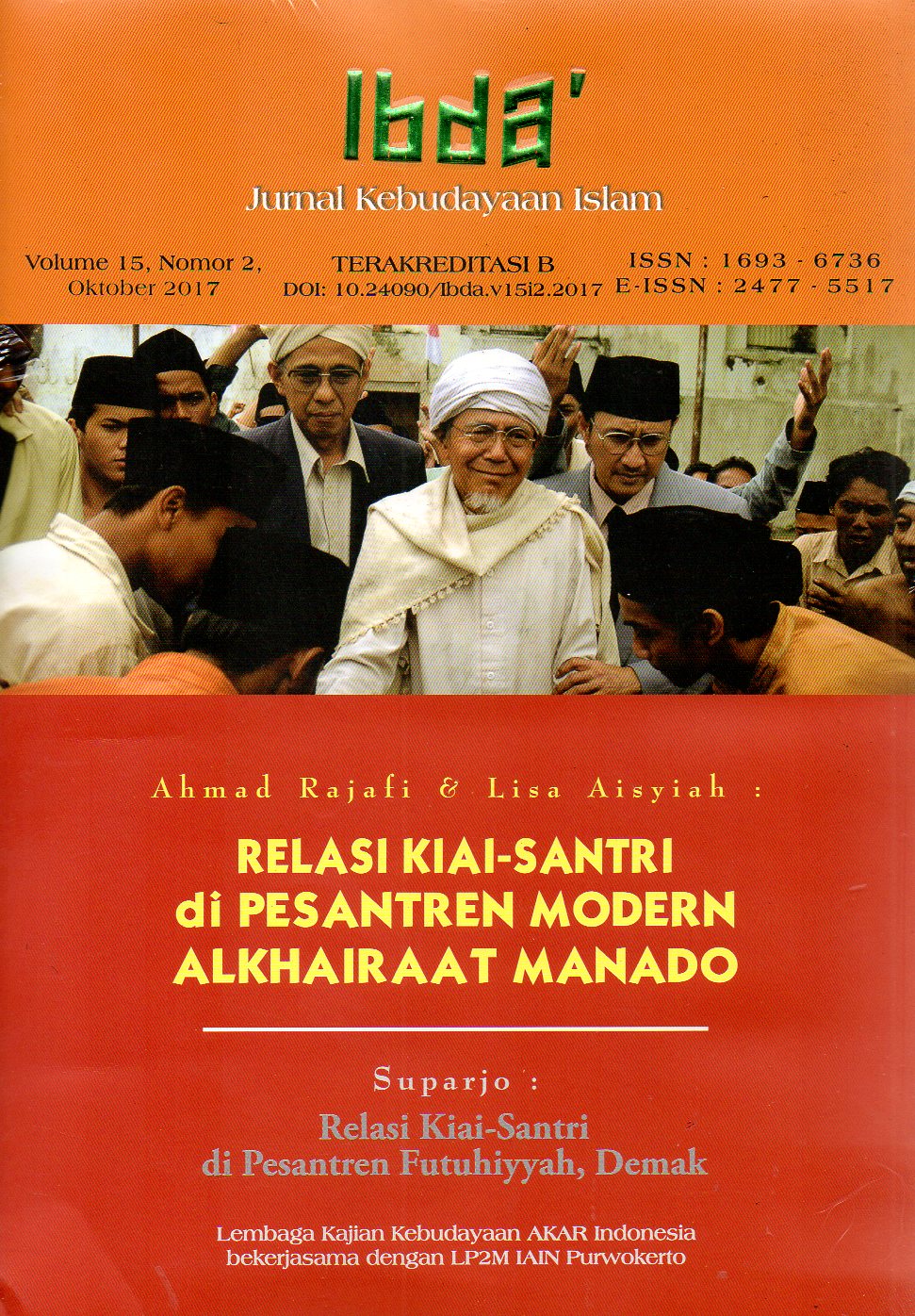 Downloads
How to Cite
Fahrurrozi, F. (2017). TRADISI PENGAJIAN KITAB TURÂTS MELAYU- ARAB DI PULAU SERIBU MASJID DAN SERIBU PESANTREN, LOMBOK, INDONESIA. IBDA` : Jurnal Kajian Islam Dan Budaya, 15(2), 235–258. https://doi.org/10.24090/ibda.v15i2.1090
License
Authors who publish with this journal agree to the following terms:


Authors retain copyright and grant the journal right of first publication with the work simultaneously licensed under a Creative Commons Attribution License that allows others to share the work with an acknowledgement of the work's authorship and initial publication in this journal.
Authors are able to enter into separate, additional contractual arrangements for the non-exclusive distribution of the journal's published version of the work (e.g., post it to an institutional repository or publish it in a book), with an acknowledgment of its initial publication in this journal.
Authors are permitted and encouraged to post their work online (e.g., in institutional repositories or on their website) before and during the submission process, as it can lead to productive exchanges, as well as earlier and greater citation of published work (See The Effect of Open Access).