PESANTREN: SANTRI, KIAI, DAN TRADISI
Keywords:
Optimalisasi, Fungsi, Tradisi, Pesantren, Santri
Abstract
Nowadays, there is a skeptic sense when pesantren (Islamic boarding school) is discussed. There are always the same questions; function, relevance and future guarantee for its graduates. Meanwhile, historically, pesantren became an important pillar for Indonesia education and culture. Pesantren was a traditional educational institution that has lot of roles to reach Indonesia independence in the past and educate Indonesian people. There were born many outstanding figures who became the declaratory and mover of the development of the nation. However, nowadays it seems that pesantren lost its direction and identity on facing the globalization. There are some traditions as important elements on system and curriculum that have lost. When those elements are revitalized and optimized;, hopefully its contribution will not be questioned anymore.
Downloads
Download data is not yet available.
References
Anwar, Ali. 2011. Pembaruan Pendidikan Pesantren Lirboyo Kediri. Yogyakarta: Pustaka Belajar.

Azra, Azyumardi. 1996. Pergolakan Politik Islam, Dari Fundamentalis, Modernis, Hingga Postmodernisme. Jakarta: Paramadina.

Geertz, Clifford. 1981. Abangan, Santri, dan Priyayi dalam Masyarakat Jawa. Jakarta: Pustaka.

Mulyanto, Sumardi. 1977. Sejarah Singkat Pendidikan Islam di Indonesia 1945-1975. Jakarta: Dharma Bhakti. Majalah Kiblat NO. 9/XXXIII, 85: hlm. 56.

Siddiq, Achmad. 1983. "Majalah Pesantren As-Shidiqi Putsa" Jember, Jawa Timur, 1983.

Sutrisno, Budiono Hadi. 2009. Sejarah Walisongo Misi Pengislaman di Tanah Jawa. Yogyakarta: GRAHA Pustaka.

Van der Veur, Paul W. (Ed.). 1984. Kenang-kenangan Dokter Soetomo. Jakarta: Sinar Harapan.

Yusuf, Choirul & Suwito NS. 2009. Model Pengembangan Ekonomi Pesantren. Purwokerto: STAIN Press.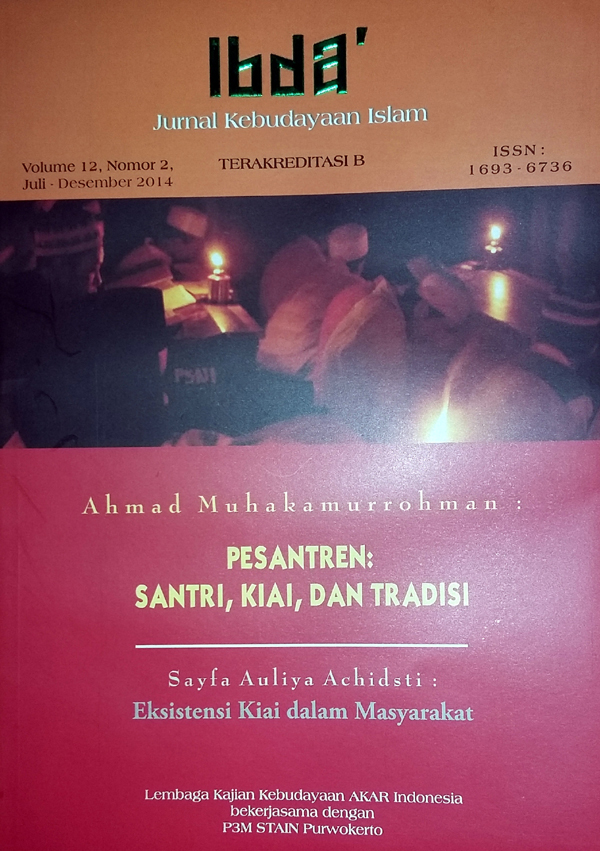 Downloads
How to Cite
Muhakamurrohman, A. (2014). PESANTREN: SANTRI, KIAI, DAN TRADISI. IBDA` : Jurnal Kajian Islam Dan Budaya, 12(2), 109–118. https://doi.org/10.24090/ibda.v12i2.440
License
Authors who publish with this journal agree to the following terms:


Authors retain copyright and grant the journal right of first publication with the work simultaneously licensed under a Creative Commons Attribution License that allows others to share the work with an acknowledgement of the work's authorship and initial publication in this journal.
Authors are able to enter into separate, additional contractual arrangements for the non-exclusive distribution of the journal's published version of the work (e.g., post it to an institutional repository or publish it in a book), with an acknowledgment of its initial publication in this journal.
Authors are permitted and encouraged to post their work online (e.g., in institutional repositories or on their website) before and during the submission process, as it can lead to productive exchanges, as well as earlier and greater citation of published work (See The Effect of Open Access).