RELASI KIAI-SANTRI DI PESANTREN FUTUHIYYAH, DEMAK
Keywords:
Communication, Interpersonal, Kiai-Santri, Pesantren
Abstract
This writing discusses interpersonal relations between kiai and santri which concludes that ethic-pedagogic communication is a result from closed-distanced relation via habituation process based on unifying reflective-ethics conscience with practical conscience in religious patron- age social relation ethics value based. Both value and the practice of ethic- pedagogic communication tradition, in terms of interpersonal communi- cation between kiai and santri, contain positive and negative effects. The sense of kinship becomes an ideal value which should be preserved and adopted in educational system outside pesantren. The charisma-tization and symbolization towards kiai, create more awareness in studying pro- cess and maximizing self development during a period in pesantren and even beyond. Kiai - santri interpersonal communication restores many nega- tive - unproductive attitudes deliberately and ramifies positive - construc- tive side in everyday life. The more reflective conscience arises in many pesantren communities, significantly cementing the tradition. And if this habitus collectively formed and more and more become a tradition, this could affect to each person who enter the pesantren . This transformation into tradition could possibly occured because of the "abration of tradi- tion†process.
Downloads
Download data is not yet available.
References
Bourdieu, Pierre and J.C. Passeron. 1977. Reproduction in Education, Society and Culture. London: Sage.
Bourdieu, Pierre. 2004. Distinction: A Social Critique of the Judgement of Taste. New York & London: Routledge.
________________. 1990. In Other Words. Cambridge: Polity Press, 1990.
_______________. 1991. Language and Symbolic Power, transl. Gyno Raymond and Mathew Adamson. Cambridge, Massacusset: Harvars University Press.
________________. 1977. Outline of a Theory of Practice. Cambridge: Cambridge University Press.
________________. 1990b. The Logic of Practice, translated by Richard Nice. Stanford, Californa: Stanford University Press.
Bungin, M. Burhan. 2007. Sosiologi Komunikasi: Teori, Paradigma dan Diskursus Teknologi Komunikasi di Masyarakat . Jakarta: Kencana.
Field, John. 2010. Modal Sosial, terj. Nurhadi. Yogyakarta: Kreasi Wacana.
Ghazali, Imam. t.t. Ih}ya>' 'Ulu>m ad-Di>n, Jilid I. Semarang: Thoha Putera.
Giddens, Anthony. 1976. New Rules of Sociological Methods. Cambridge: Polity Press, 2nd Edition.
________________. 1979. Central Problems in Social Theory. London: Mac- millan.
________________. 1984. The Constitution of Society. Cambridge: Polity Press.
________________. 2010. Teori Strukturasi: Dasar-dasar Pembentukan Struktur Sosial, terj. Maufur dan Daryatno. Yogyakarta: Pustaka Pelajar.
Haryatmoko. 2008. "Sekolah, Alat Reproduksi Kesenjangan Sosial: Analisis Kritis Pierre Bourdieu" dalam Basis No. 07-08, Tahun ke-7, Juli-Agustus.
Jenkins, Richard. 2004. Membaca Pikiran Bourdieu, terj. Nurhadi, (Yogyakarta: Kreasi Wacana.
Jones, Pip. 2009. Pengantar Teori-Teori Sosial: dari Fungsionalisme hingga Post-Modernisme. Jakarta: Yayasan Obor Indonesia.
Mitchel, G. Duncan (ed.). 1979. A New Dictionary of Sociology. London and Henley: Routledge and Kegan Paul.
Priyono, B. Herry. 2002. Anthony Giddens: Suatu Pengantar . Jakarta: KPG.
Putra, Heddy Shri Ahimsa. 1998. Minawang: Hubungan Patron-Klien di Sulawesi Selatan. Yogyakarta: Gadjah Mada University Press.
Ritzer, George & Douglas J. Goodman. 2005. Teori Sosiologi Modern, terj. Alimandan. Jakarta: Kencana, Cet. III.
Turner, Jonathan H. 1997. The Structure of Sociological Theory . Belmon, CA: Wadsworth.
Zarnuji Az-. t.t. Ta'li>m al-Muta'allim . Surabaya: Nur Asiya.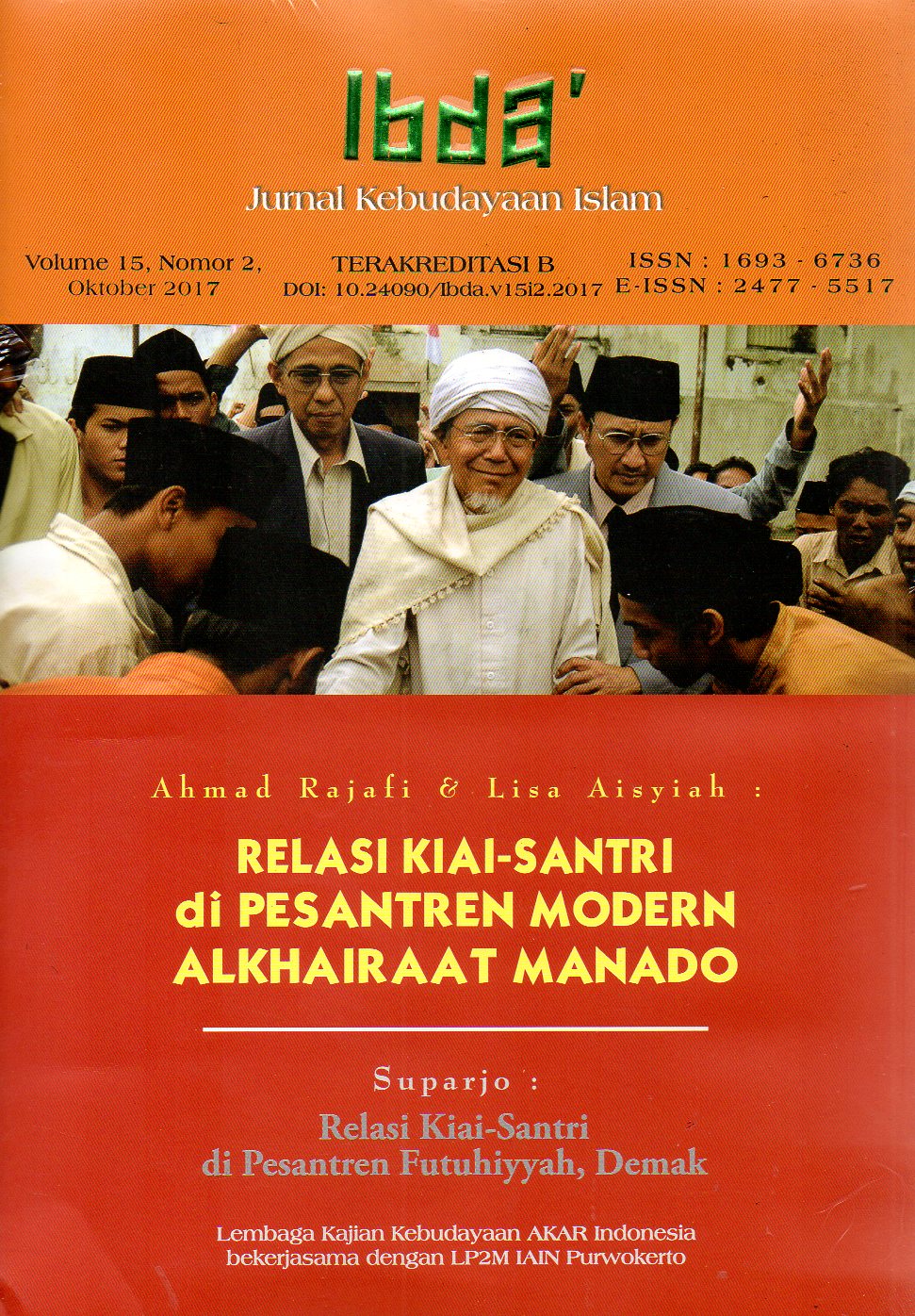 Downloads
How to Cite
Suparjo, S. (2017). RELASI KIAI-SANTRI DI PESANTREN FUTUHIYYAH, DEMAK. IBDA` : Jurnal Kajian Islam Dan Budaya, 15(2), 192–214. https://doi.org/10.24090/ibda.v15i2.1335
License
Authors who publish with this journal agree to the following terms:


Authors retain copyright and grant the journal right of first publication with the work simultaneously licensed under a Creative Commons Attribution License that allows others to share the work with an acknowledgement of the work's authorship and initial publication in this journal.
Authors are able to enter into separate, additional contractual arrangements for the non-exclusive distribution of the journal's published version of the work (e.g., post it to an institutional repository or publish it in a book), with an acknowledgment of its initial publication in this journal.
Authors are permitted and encouraged to post their work online (e.g., in institutional repositories or on their website) before and during the submission process, as it can lead to productive exchanges, as well as earlier and greater citation of published work (See The Effect of Open Access).