Pemikiran Richard C. Martin Tentang Islam dan Studi Agama Serta Implikasinya dalam Kajian Psikologi
Keywords:
Studi Islam, Richard C. Martin, Oksidentalist, Orientalist
Abstract
Religion as a belief and way of life is a very important thing in human life. Religion is understood to be able to provide confidence, motivation and relevance wherever and whenever (fi kulli zaman wa makan). Therefore religion must be understood scientifically, objectively and openly in the midst of complexities and diverse perspectives. Religion must be placed in the realm of scientific objects that are ready to be studied, examined and developed in all dimensions and perspectives of Muslims (Oksidentalist) and non-Muslims (orientalist). To answer anxiety and solution, Richard C. Martin offers three approaches, namely the approach of data fields, phenomenology and psychology. This research is a literature study. The source of the data is obtained from primary data in the form book titled "Approaches to Islam in Religious Studies" with editor Richard C. Martin and secondary in the form of research related to research. This analysis uses content analysis. The results of this study are that disclosure of issues of religious studies through data fields, namely data about Islam which consists of historical and geographical data. While the types of data consist of textual types, socio-historical data, and ritual-symbolic data. The solution to Martin's approach to Islamic studies is his solution idea in the form of a phenomenological approach to solve insider and outsider problems. The phenomenological approach can be used as a basis for combining Islamic studies and psychological studies to examine the problem of one's religious behavior.   Agama sebagai keyakinan dan pedoman hidup (way of live) merupakan hal yang sangat penting dalam kehidupan manusia. Agama dipahami mampu akan memberikan keyakinan, motivasi dan relevan dimanapun dan kapanpun (fi kulli zaman wa makan). Oleh karena itu agama harus dipahami secara ilmiah, objektif dan terbuka di tengah-tengah kompleksitas dan cara pandang yang beragam. Agama harus di tempatkan pada ranah objek ilmiah yang siap diteliti, dikaji dan dikembangkan dalam segala dimensi dan perspektif muslim(Oksidentalis) maupun non muslim (orientalis). Untuk menjawab kegelisahan dan solusi maka, Richard C. Martin menawarkan tiga pendekatan yakni pendekatan data fields, fenomenologi dan psikologi. Penelitian Ini merupakan studi pustaka. Sumber data diperoleh dari data primer berupa buku berjudul "Approaches to Islam in Religious Studies†dengan editor Richard C. Martin dan sekunder berupa putaka yang berkaitan dengan penelitian. Analisis ini menggunakan content analysis. Hasil penelitian ini menunjukkan bahwa pengungkapan terhadap isu-isu studi agama melalui data field yaitu data tentang Islam yang terdiri dari data historis maupun geografis. Sedang jenisjenis data terdiri dari jenis-jenis tekstual, data sosial-historis, serta data ritualsimbolis. Solusi pendekatan Martin untuk studi Islam adalah gagasan solutifnya berupa pendekatan fenomenologi untuk memecahkan problem-problem insider dan outsider. Pendekatan fenomenologi dapat dijadikan sebagai dasar memadukan studi Islam dan kajian psikologis untuk mengkaji masalah perilaku keagamaan seseorang.
Downloads
Download data is not yet available.
References
Adams, C. J. (1976). Islamic Religious Tradition. In The Study of the Middle East: Research amd Scholarship in the Humanities and the Social Sciences. New York: John Wiley & Sons.
Andriyani, I. N. (2016). Pendekatan dalam Studi Islam (Richard C. Martin) Isnanita Noviya Andriyani. 6, 77–88.
Cox, J. L. (1992). Expressing the Sacred: An Introduction to the Phenomenology of Relegion. Harare: University of Zimbabwe.
Creswell, J. W. (1985). Qualitative Inquiry and Research Design: Choosing Among Five Traditions. London: Sage Publications.
Djamaludin, A., & Anshori, F. (1995). Psikologi Islam : Solusi Islam Atas Problem-Problem Psikologi. Yogyakarta: Pustaka Pelajar.
Fauzan, A. (2013). Pendekatan Studi Islam Ditinjau Secara Psikologis. Quality: Journal of Empirical Research In Islamic Education, 1(2).
Hidayat, K. (1999). Perkembangan Psikologi Agama dan Pendidikan Islam Di Indonesia. Ciputat: Logos Wacana Ilmu.
Huda, S. (2014). Kritik Pemikiran Richard C. Martin dalam Studi Agama dan Relevansinya dengan Studi Islam di Indonesia. Religió: Jurnal Studi Agama-Agama, 4(1), 96–123.
Jalaluddin. (2007). Psikologi Agama. Jakarta: PT. Rajagrafindo Perasada.Khoiriyah. (2013). Memahami Metodologi
Studi Islam (Suatu Konsep tentang Seluk Beluk Pemahaman
Ajaran Islam Studi Islam dan Isu-isu Kontemporer dalam Studi Islam). Yogyakarta: Teras.
Luluk Fikri Zuhriyah. (2007). Metode dan Pendekatan Dalam Studi Islam. Islamica, 2(1), 27–45.
Mahmud. (2011). Metode Penelitian Pendidikan. Bandung: pustaka setia.
Martin, R. C. (1985). Approaches to Islam in Religious Studies. Tucson: The University of Arizona
Press.
Nafis, M. M. (2011). Ilmu Pendidikan Islam. Yogyakarta: Teras.
Ridlwan, N. A. (2013). Pendekatan Fenomenologi Dalam Kajian Agama. Komunika: Jurnal Dakwah & Komunikasi, 7(2). https://doi.org/10.24090/komunika.v7i2.385
Rozie, F. (2016). Pendekatan Studi Islam Pendangan Richard C. Martin, William A. Graham dan
Earle H. Waugh dalam Approaches to Islam in Religious Studies. Islamic Review: Jurnal
Riset Dan Kajian Keislaman, 5(1), 39–58.
Shouler, K. (2010). The Everything World's Religions Book: Explore the Beliefs, Traditions, and Cultures of Ancient and Modern Religions 2nd Edition. United States: Adam Media Corporation.
Suparlan, P., & Robertson, R. (1988). Agama: Dalam Analisis dan Interpretasi Sosiologis. Jakarta: CV Rajawali.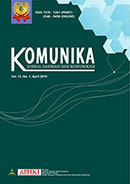 Downloads
How to Cite
Na'imah, T. (2019). Pemikiran Richard C. Martin Tentang Islam dan Studi Agama Serta Implikasinya dalam Kajian Psikologi. KOMUNIKA: Jurnal Dakwah Dan Komunikasi, 13(1), 57–64. https://doi.org/10.24090/komunika.v13i1.1997
License
Authors who publish with this journal agree to the following terms:
Authors retain copyright and grant the journal right of first publication with the work simultaneously licensed under a Creative Commons Attribution-ShareAlike 4.0 International License that allows others to share the work with an acknowledgement of the work's authorship and initial publication in this journal.
Authors are able to enter into separate, additional contractual arrangements for the non-exclusive distribution of the journal's published version of the work (e.g., post it to an institutional repository or publish it in a book), with an acknowledgement of its initial publication in this journal.
Authors are permitted and encouraged to post their work online (e.g., in institutional repositories or on their website) prior to and during the submission process, as it can lead to productive exchanges, as well as earlier and greater citation of published work (See The Effect of Open Access).