Agama dan Patologi Sosial: Konseling untuk Kasus Pekerja Seks Komersial (PSK)
Keywords:
Agama, patologi sosial, konseling, pekerja seks komersial
Abstract
Prostitusi merupakan praktek pelacuran yang didalamnya berisi aktivitas penawaran jasa oleh Pekerja Seks Komersial sebagai penyalur nafsu para pelanggannya. Kegiatan tersebut termasuk kedalam salah satu bentuk patologi sosial baik secara sosial maupun agama. Terdapat berbagai alasan seorang pekerja sosial memutuskan untuk terjun dalam dunia prostitusi seperti faktor ekonomi, pribadi, dan lain sebagainya. Seorang PSK kerap mendapatkan pengucilan oleh masyarakat karena dianggap menyimpang dari nilia, norma, dan aturan tertentu. Namun sebagai manusia, PSK juga membutuhkan pendampingan dalam rangka mengatasi masalah yang dialaminya, seperti halnya adanya keinginan untuk berhenti dari aktivitas pelacuran tersebut dalam hal ini peran konselor sangat penting. Tujuan penelitian ini untuk Agama dan Patologi Sosial: Konseling untuk Kasus Pekerja Seks Komersial (PSK). Kajian ini dilakukan dengan literature review, dengan memakai sumber data dari berbagai literatur yang kemudian dianalisis. Hasilnya adalah Layanan konseling yang dapat diberikan kepada PSK antara lain konseling melalui pendekatan behavioral, konseling islam (teknik ta'limah dan muhasabah), pendekatan pengendalian sosial, serta pendekatan lintas budaya.
Downloads
Download data is not yet available.
References
Alhaitamy, A., & Netrawati, N. (2021). The Contribution of Optimism toResilience of the Ex-Prostitutes in Undergoing Rehabilitation at the Andam Dewi Sukarami, Solok. Jurnal Neo Konseling, 3(2), 81–87. https://doi.org/10.24036/00424kons2021
Astuti, A. P., Muntamah, U., & Haryani, S. (2019). Deteksi Dini Pencegahan HIV/AIDS melalui Pemeriksaan IMS pada Pekerja Seks Komersiil (PSK) di Wilayah Kerja Puskesmas Bawen Kabupaten Semarang. Jurnal Pengabdian Kesehatan, 2(2), 147–166. https://doi.org/10.31596/jpk.v2i2.53
Badi'ah, S. (2018). Problem Solving Patologi Sosial Dalam Perspektif Islam. Al-Adyan: Jurnal Studi Lintas Agama, 13(2), 157–172. https://doi.org/10.24042/ajsla.v13i2.3294
Blondin-Ladrie, L., Fourcade, L., Modica, A., Aranguren, M., Montigny, N. de, Labbé, A.-C., Alary, M., Guédou, F., & Roger, J. P. andMichel. (2022). Monocyte Gene and Molecular Expression Profiles Suggest Distinct Effector and Regulatory Functions in Beninese HIV Highly Exposed Seronegative Female Commercial Sex Workers. Viruses, 14(2), 361. https://doi.org/10.3390/v14020361
Browne-James, L., Litam, S. D. A., & McRae, L. (2021). Child Sex Trafficking: Strategies for Identification, Counseling, and Advocacy. International Journal for the Advancement of Counselling Volume, 43, 113–125. https://doi.org/10.1007/s10447-020-09420-y
Bustan, R. (2013). Pelayanan Konseling Islam pada Remaja yang Tinggal di Lingkungan Pekerja Seks Komersil (PSK) Tanah Abang. JURNAL Al-AZHAR INDONESIA SERI HUMANIORA, 2(2), 89. https://doi.org/10.36722/sh.v2i2.120
Gunawan, R., Mahendra, M. H., Zakaria, H. R., & Qoyum, M. (2020). Behavior Motives and Legal Study of Commercial Sex Workers Around Pemalang District Terminal Area. Law Research Review Quarterly, 6(1), 53–68. https://doi.org/10.15294/lrrq.v6i1.31214
Iqbal, M. M., Muklas, I., Atmaja, F. D., Fadhilah, M., & Mahfud, A. (2022). PSK Dan Nilai Agama : Studi Tentang Pilihan Rasional Pekerja Seks Komersial. 7(1), 27–38.
Johnston, L. A. T. A. (2022). Religion and Sex Work: Sex workers perspectives on religion, identity, family and health in New Zealand and Australia [University of Otago New Zealand]. http://hdl.handle.net/10523/13618
Khairunisa, N. S., & Sihaloho, E. D. (2019). Determinan Pembangunan Daerah dan Angka HIV/AIDS di Indonesia. EKONOMIKAWAN : Jurnal Ilmu Ekonomi Dan Studi Pembangunan, 19(1), 43–58.
Khumaerah, N. (2017). Patologi Sosial Pekerja Seks Komersial (PSK) Perspektif Al-Qur'an. Jurnal Al-Khitabah, III(1), 62–73.
Litam, S. D. A., & Lam, E. T. C. (2021). Sex Trafficking Beliefs in Counselors: Establishing the Need for Human Trafficking Training in Counselor Education Programs. International Journal for the Advancement of Counselling, 43, 1–18. https://doi.org/10.1007/s10447-020-09408-8
Mahmud, H. (2020). Konsep-konsep Al-Quran Dalam Penanggulangan Paologi Sosial. Jurnal Media Informasi Dan Komunikasi Ilmiah: Alasma, 2(2), 161–196.
Makbul, M., Alfarizi, M. Y., & S, D. S. (2021). Patologi Sosial dalam Tinjauan Pendidikan Islam dan Solusinya. Bacaka: Jurnal Pendidikan Agama Islam, 1(1), 53–63.
Maulana, M. A., & Nugroho, P. W. (2019). Mengurangi Kenakalan Remaja Menggunakan Konseling Behavioral pada Peserta Didik di SMA. KONSELI: Jurnal Bimbingan Dan Konseling (E-Journal), 6(1). https://doi.org/10.24042/kons.v6i1.4059
Osei-Tutu, A., Oti-Boadi, M., Affram, A. A., Dzokoto, V. A., Asante, P. Y., Agyei, F., & Kenin, A. (2020). Premarital Counseling Practices among Christian and Muslim Lay Counselors in Ghana. Journal of Pastoral Care & Counseling: Advancing Theory and Professional Practice through Scholarly and Reflective Publications, 74(3), 203–211. https://doi.org/10.1177/1542305020916721
Quaife, M., Vickerman, P., Manian, S., Eakle, R., Cabrera-Escobar, M. A., Delany-Moretlwe, S., & Terris-Prestholt, F. (2018). The Effect of HIV Prevention Products on Incentives to Supply Condomless Commercial Sex among Female Sex Workers in South Africa. Health Economics, 27(10), 1550–1566. https://doi.org/10.1002/hec.3784
Rahman, M. F., Mughni, A., & Zaini, A. (2021). Konseling Islam Melalui Teknik Ta ' Limah Dan Muhasabah. 3(2), 125–132.
Saefulloh, A., & Nofriza, N. (2018). Upaya Rehabilitasi Eks Pekerja Seks Komersial (Psk) Di Panti Sosial Karya Wanita (Pskw) Andam Dewi Solok. Palita: Journal of Social-Religion Research, 3(2), 121–140. https://doi.org/10.24256/pal.v3i2.359
Siwi, T. K., Widanti, A., & Hartanto, H. (2018). Legal Protection to Commercial Sex Workers (PSK) Viewed From Reproductive Health Aspects at Pasar Kembang (Sarkem) Yogyakarta. Soepra: Jurnal Hukum Kesehatan, 4(2), 342–349. https://doi.org/10.24167/shk.v4i2.1499
Spice, W. (2007). Management of sex workers and other high-risk groups. Occupational Medicine, 57(5), 322–328. https://doi.org/10.1093/occmed/kqm045
Sujianti, N. (2020). Hubungan Agama dan Pekerjaan Sebagai PSK di Kembang Kuning Surabaya. Majalah Ilmiah Tabuah, 24(2).
Thompson, J., & Haley, M. (2018). Human Trafficking: Preparing Counselors to Work with Survivors. International Journal for the Advancement of Counselling, 40, 298–309. https://doi.org/10.1007/s10447-018-9327-1
Wahyuni, H. (2014). PSK dan Tekanan Sosial Pasca Penutupan Gang Dolly Surabaya. Personifikasi, 5(1), 1–18.
Zhang, H., Hsieh, E., Wang, L., & Liao, S. (2020). HIV/AIDS Among Female Sex Workers in China: Epidemiology and Recent Prevention Strategies. Current HIV/AIDS Reports, 17, 151–160. https://doi.org/10.1007/s11904-019-00477-y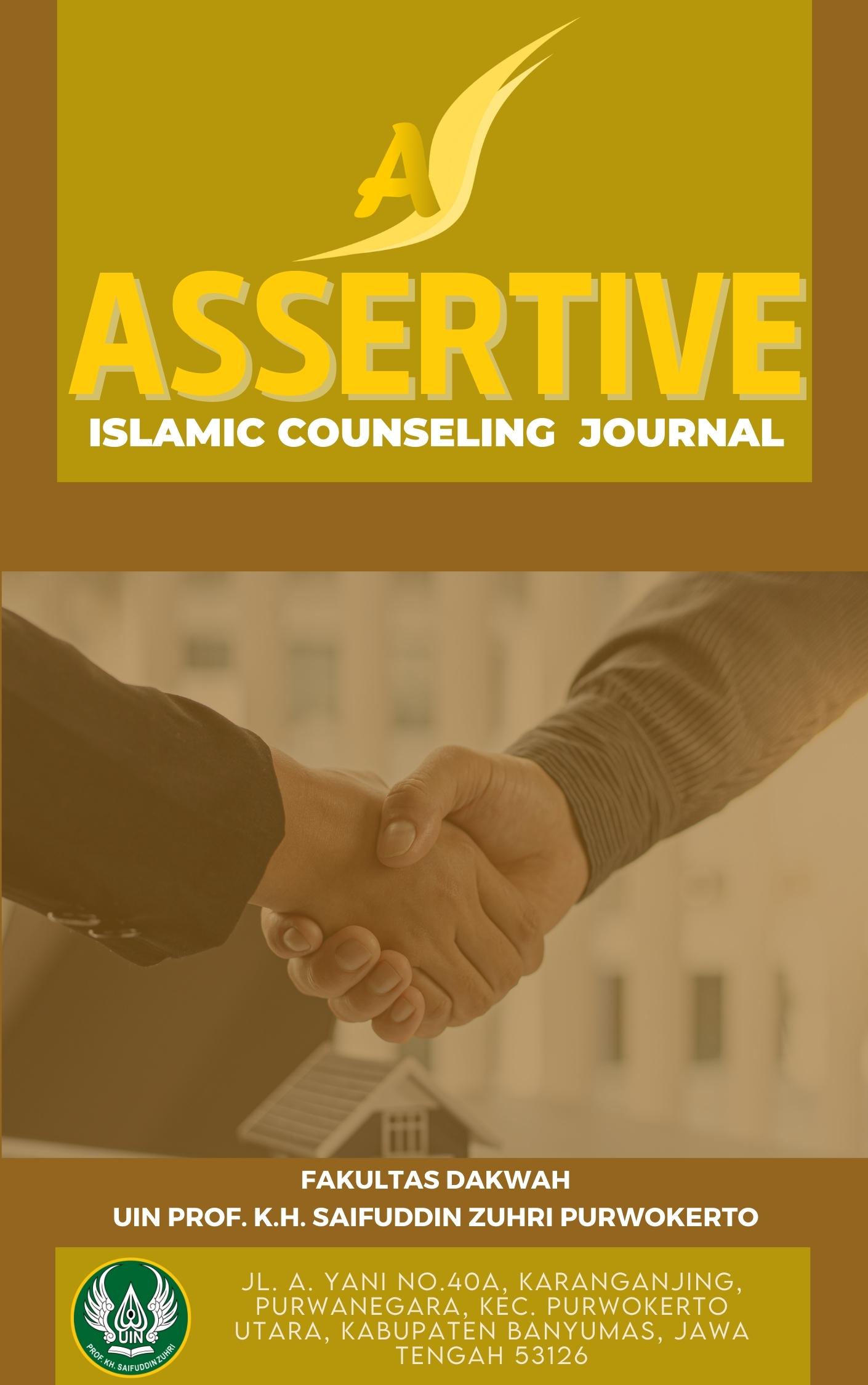 Downloads
How to Cite
Nurul Fitrian Eko Saputro. (2022). Agama dan Patologi Sosial: Konseling untuk Kasus Pekerja Seks Komersial (PSK). Assertive: Islamic Counseling Journal, 1(1), 76–90. https://doi.org/10.24090/j.assertive.v1i1.6983
License
Copyright (c) 2022 Nurul Fitrian Eko Saputro
This work is licensed under a Creative Commons Attribution 4.0 International License.