Intruksi Presiden Sebagai Hasil dari Upaya Mediasi Konflik di Konflik Poso
Keywords:
Konflik, Poso, Mediasi, Instruksi Presiden
Abstract
The purpose of this writing is to find out and analyze how the President's Instructions are an effort to mediate conflict in the Poso conflict. The research method in this paper uses the method of library research (library research) obtained from various sources of literature (books, literature, articles, magazines, websites, journals, research results and so on) with qualitative data analysis. The results of this study concluded that there were two main factors that became the basis for the conflict in Poso, namely the dominance of religion and the transfer of power both economically, socially and politically. By making efforts to resolve the representation between the two parties in order to find peace, then the Presidential Instruction No. policy was issued. 14 of 2005 which consists of: 1) In carrying out handling of Poso must be coordinated in an integrated and comprehensive manner. 2) Every case of crime and terror must be handle firmly. 3) In carrying out the handling efforts, he still pays attention to the Malino Declaration on December 20, 2001.
References
Alganih, Igneus. 2016. "Konflik Poso ( Kajian Historis Tahun 1998-2001)" dalamJurnal Criksetra edisi Vol. 5, No. 10, Agustus 2016.
Handayani, Rizky Sri dan Adije, Hanna . 2020. "Konflik Poso; Sejarah dan Upaya Penyelesainnya" dalam jurnal Pendidikan Ilmu-Ilmu Sosial edisi Vol. 13, No. 1, 20 Juni 2020.
Ariwibowo, Tjandra. 2021. " Konflik Poso dalam Perspektif Peperangan Asimetris" dalam Jurnal Ilmiah Indonesia edisi Vol. 6, No. 4, April 2021.
Wijaya, Nanang. "Resolusi Konflik Berbasis Budaya Oleh Masyarakat Kabupaten Poso" dalam Jurnal Kolaborasi Resolusi Konflik edisi Vol. 2, No. 1.
Presiden Republik Indonesia. 2005. "Intruksi Presiden Republik Indonesia Nomor 14 Tahun 2005 Tentang Langkah-langkah Komprehensif Penanganan Masalah Poso" : Jakarta.
https://roboguru.ruangguru.com/question/salah-satu-upaya-pemerintah- dalam-mengatasi-konflik-konflik-poso-adalah-dengan-mengeluarkan- intruksi_ICh7Vgp8O1l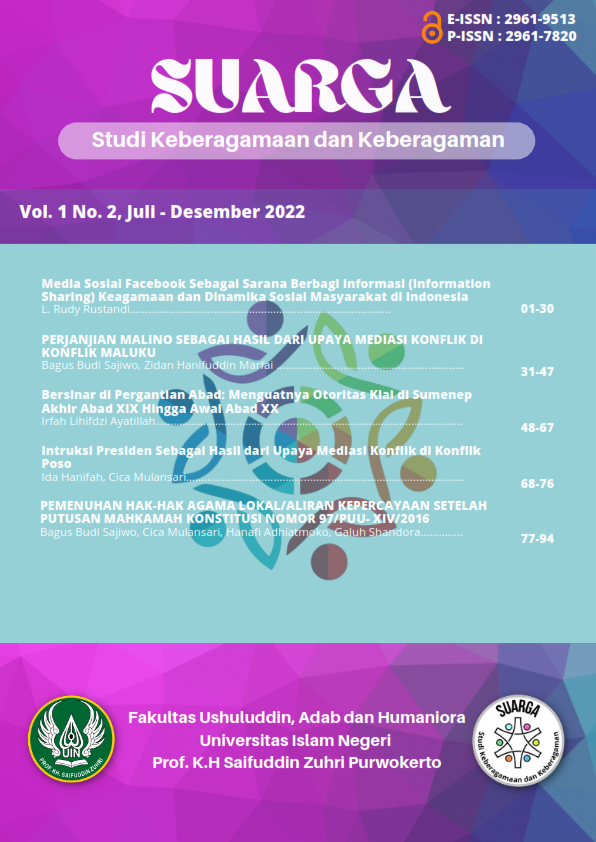 Downloads
How to Cite
Hanifah, I. (2022). Intruksi Presiden Sebagai Hasil dari Upaya Mediasi Konflik di Konflik Poso . Jurnal SUARGA: Studi Keberagamaan Dan Keberagaman, 1(2), 68–76. https://doi.org/10.24090/suarga.v1i2.7450
License
Copyright (c) 2022 Ida Hanifah (Author)
This work is licensed under a Creative Commons Attribution-NonCommercial 4.0 International License.