PERJANJIAN MALINO SEBAGAI HASIL DARI UPAYA MEDIASI KONFLIK DI KONFLIK MALUKU
Keywords:
conflict, maluku, Malino Charter
Abstract
Conflict can be interpreted as conflict, dispute, or conditions that are not in accordance with what they should be, conflict is usually accompanied by violence, but it is undeniable that there are conflicts that are not accompanied by violence. In Indonesia, conflict is not something new, it even occurs relatively often, this is because Indonesia is a pluralistic/multicultural country, with that difference Indonesia is prone to conflict. Like the conflict in Maluku in 1999. After the outbreak of the reformation event, it provided an opportunity for certain groups in Maluku to vent their grudges that had been buried so far. The Maluku conflict went on for a long time and claimed many lives. This study aims to find out how the Malino Agreement is an effort of conflict mediation in this complex Maluku conflict.
References
C, Buchanan. "Pengelolaan Konflik Di Indonesia: Sebuah Analisis Konflik Di Maluku, Papua, dan Poso." Centre For Humanitarian Dialogue. 2011.
D, Rudiansyah. "Dimensi Sosiopolitik Konflik Ambon." 2019.
G, Van Klinken. Perang Kota Kecil: Kekerasan Komunal dan Demokratisasi diIndonesia. Yayasan Obor Indonesia, 2007.
H, Bakri. "Resolusi Konflik Melalui Pendekatan Kearifan Lokal Pela Gandong di KotaAmbon." Jurnal Magister Ilmu Politik. 1(1). 2015.
Jerry Indrawan, Ananda Tania Putri. "Analisis Konflik Ambon MenggunakanPenahapan Konflik Simon Fisher." Jurnal Kolaborasi Resolusi Konflik. Vol,4 No,1. Jumaidi Elewahan, dkk. "Konflik Maluku dan Pelaksanaan Perjanjian Malino." Jurnal Kajian, Penelitian, & Pengembangan Pendidikan Sejarah. Vol.4, No.2. 2019.
P, Suparlan. Konflik Sosial Dan Alternatif Pemecahannya. Antropologi Indonesia. 2014.
R, Ismail. "Resolusi Konflik Keagamaan Integratif: Studi Atas Resolusi KonflikKeagamaan Ambon." Living Islam: Journal of Islamic Doscourses. Vol.3. 2021.
S, Lindawaty D. "Konflik Ambon: Kajian Terhadap Beberapa Akar Permasalahan dan Solusinya." Politica. 2(2). 2011.
Waileruny, S. Membongkar Konspirasi Di Balik Konflik Maluku. Yayasan Pustaka Obor Indonesia. 2010.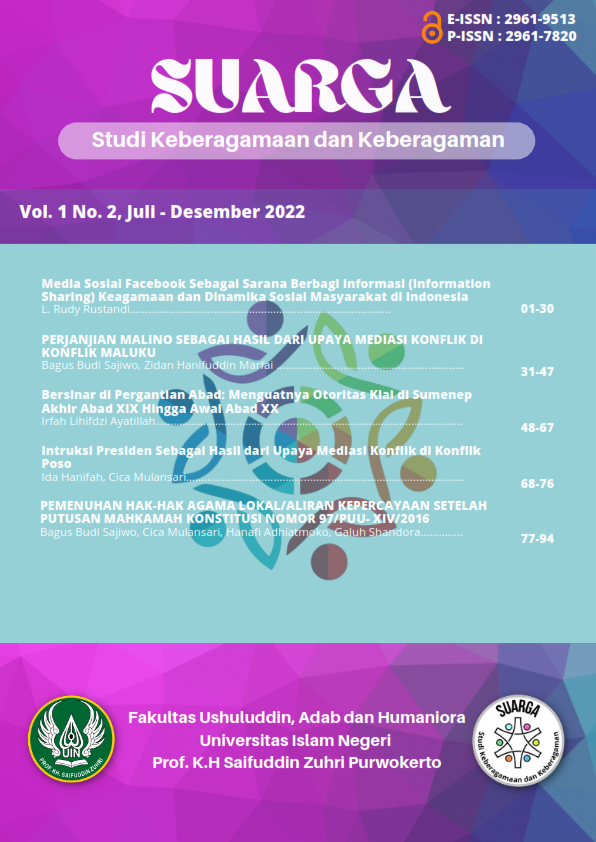 Downloads
How to Cite
Sajiwo, B. B. (2022). PERJANJIAN MALINO SEBAGAI HASIL DARI UPAYA MEDIASI KONFLIK DI KONFLIK MALUKU. Jurnal SUARGA: Studi Keberagamaan Dan Keberagaman, 1(2), 31–47. https://doi.org/10.24090/suarga.v1i2.7449
License
Copyright (c) 2022 Bagus Budi Sajiwo (Author)
This work is licensed under a Creative Commons Attribution-NonCommercial 4.0 International License.