TRADISI BACA KITAB GUNDUL DI PONDOK PESANTREN PUTRI AL-ISHLAHIYAH SINGOSARI
Keywords:
Method, Book of Yellow, Islamic boarding school
Abstract
This study aims to investigates the supporting and inhibiting factors in non vowel Islamic's Kitab Kuning (The Yellow Books) educa- tion at Pesantren Putri al-Ishlahiyyah Singosari. Qualitative research method is used in this study by using descriptive qualitative data. From the analysis, this study finds : 1) The implementation of the education is still in a traditional form, which is, using only pesantren's material and exclude the public school's general material in it's curriculum. Moreover, language learning methods used in Madrasah Diniyah classes consist of enumeration methods ( bandongan ), rote methods ( hafalan ), and assess- ment methods; 2) This study concludes that supporting factors in this pesantren are: educational infrastructure and facilities , interconnected learning materials, highly educated santri and ustadz . Meanwhile, the in- hibiting factors are : less active and motivated students, lack of the in- structional media and related books, the existence of translation books which make students less motivated to learn the non-translated source books, Monotonous teaching methods, and lastly, insufficient duration due to short period and time allocation.
Downloads
Download data is not yet available.
References
Arief, Armai. Pengantar Ilmu dan Metodologi Pendidikan Islam. Ciputat: Ciputat Press.

Departemen Pendidikan dan Kebudayaan, 1995. Kamus Besar Bahasa Indonesia, Jakarta: Balai Pustaka.

Dhofier, Zamakhsyari. 1994. Tradisi Pesantren. Jakarta: LP3ES.

F. Mas'udi, Masdar. 2001. Pergulatan Pesantren. Jakarta: P3M.

Fakultas Tarbiyah IAIN Walisongo. 2004. Metodologi Pengajaran Agama, Pustaka Pelajar: Semarang.

Madjid, Nurcholish Madjid. 2002. Modernisasi Pesantren. Jakarta: Ciputat Press, 2002.

Mahfudh, Sahal. 1994. Nuansa Fiqih Sosial, Yogyakarta:LKiS, 1994. hal.264

Maimun. 1996. Strategi Pemanfaatan Sumber Belajar di Pondok Pesantren. Jurnal Pendidikan Islam, Malang: Tarbiyah Press IAIN Sunan Ampel.

Muhaimin. 1996. Strategi Belajar Mengajar. Surabaya: Citra Media.

Muhaimin. 1993. Pemikiran Pendidikan Islam. Bandung: Trigenda Karya.

Mulyasa. 2004. Kurikulum Berbasis Kompetensi. Bandung: Rosda.

Qamar, Mujamil. Pesantren dari Transformasi Metodologi Menuju Demokratisasi Institusi. Jakarta: Erlangga.

Rahardjo, M. Dawam. 1985. Pergulatan Dunia Pesantren. Jakarta: P3M.

Rahardjo, M. Dawam. 1995. Pesantren dan Pembaharuan. Jakarta: LP3ES.

Saleh, Abdur Rahman. 1982. Pedoman Pembinaan Pondok Pesantren. Jakarta: Departemen Agama RI.

Siradj, Sa'id Aqiel, dkk. 2004. Pesantren Masa Depan. Cirebon: Pustaka Hidayah,

Syah, Muhibbin Syah. 2004. Psikologi Pendidikan. Bandung: Remaja Rosdakarya.

Syah, Muhibbin. 2004. Psikologi Pendidikan. Bandung: Rosda.

Syahatah, Husein. 1999. Quantum Learning plus Sukses Belajar Cara Islam, Bandung: Mizan.

Turmudi, Endang. 2004. Perselingkuhan Kiai dan Kekuasaan. Yogyakarta: LKiS.

UU RI No. 20 Tahun 2003 Tentang Sistem Pendidikan Nasional

Van Bruinessen, Martin. 1995. Kitab Kuning, Pesantren dan Tarekat. Bandung: Mizan.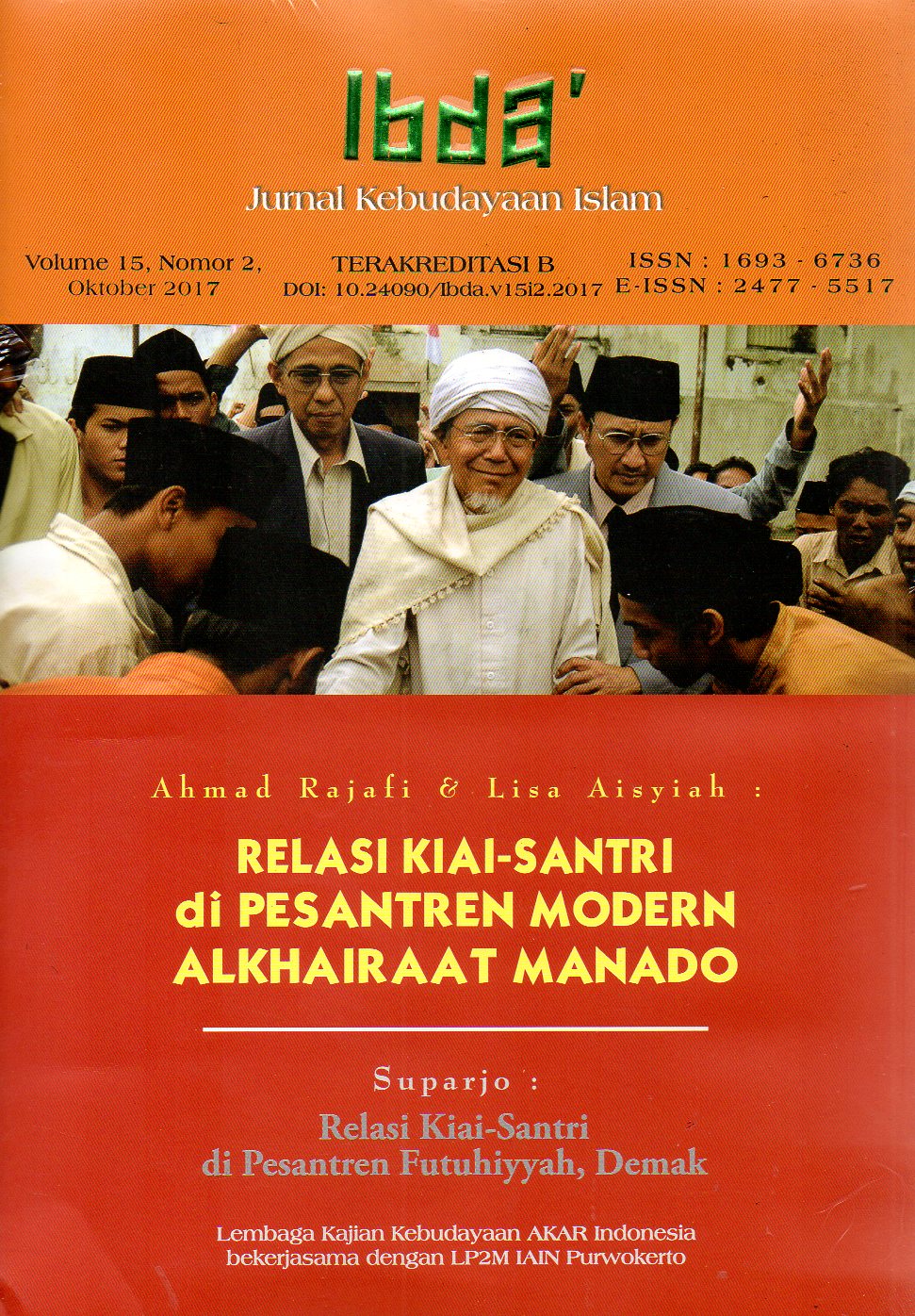 How to Cite
Bashori, B. (2017). TRADISI BACA KITAB GUNDUL DI PONDOK PESANTREN PUTRI AL-ISHLAHIYAH SINGOSARI. IBDA` : Jurnal Kajian Islam Dan Budaya, 15(2), 215–234. https://doi.org/10.24090/ibda.v15i2.1068
License
Authors who publish with this journal agree to the following terms:


Authors retain copyright and grant the journal right of first publication with the work simultaneously licensed under a Creative Commons Attribution License that allows others to share the work with an acknowledgement of the work's authorship and initial publication in this journal.
Authors are able to enter into separate, additional contractual arrangements for the non-exclusive distribution of the journal's published version of the work (e.g., post it to an institutional repository or publish it in a book), with an acknowledgment of its initial publication in this journal.
Authors are permitted and encouraged to post their work online (e.g., in institutional repositories or on their website) before and during the submission process, as it can lead to productive exchanges, as well as earlier and greater citation of published work (See The Effect of Open Access).