Bimbingan Rohani Islam dalam Mengembangkan Spiritual bagi Korban Penyalahgunaan Napza
Abstract
The problem of drug abuse requires professional and serious handling because drug users can come from all walks of life and all ages. Treatment for victims of drug abuse (residents) can be through social rehabilitation with various programs and services to help residents recover; one of the programs is Islamic spiritual guidance services. This study aims to explain the implementation of spiritual guidance for spiritual development, which is carried out at the "Satria" Baturraden Center. The method used is a descriptive qualitative, with spiritual guidance officers as subjects and addiction counselors at the "Satria" Baturraden Center. Data collection was in the form of observations and interviews, which were then analyzed and supported by triangulation. The results are that Islamic spiritual guidance is essential to be given to residents undergoing drug rehabilitation. Implementing Islamic spiritual guidance can be done by providing motivational material and self-awareness associated with Islamic religious studies and supported by religious activities, such as: reading the Qur'an, praying five times a day, dhikr, and reading blessings, as well as activities other. Through Islamic spiritual guidance, residents can get many benefits that can be applied in daily worship activities while undergoing rehabilitation and after leaving the rehabilitation institution.
Downloads
Download data is not yet available.
References
Akhmad, A., Hadi, I., Askrening, A., & Ismail, I. (2019). Efektivitas terapi spritual shalat dan dzikir terhadap kontrol diri klien penyalahgunaan napza. Health Information: Jurnal Penelitian, 11(2), 77-90. https://doi.org/10.36990/HIJP.V11I2.148
Anam, A. M. (2021). Mengatasi Gangguan Proses Sampainya Pesan melalui Motivasi Kesadaran pada Pecandu Narkoba. Jurnal Da'wah: Risalah Merintis, Da'wah Melanjutkan, 4(01), 33-56. https://doi.org/10.38214/jurnaldawahstidnatsir.v4i01.94
Bensaid, B., ben Tahar Machouche, S., & Tekke, M. (2021). An Islamic Spiritual Alternative to Addiction Treatment and Recovery. Al-Jami'ah: Journal of Islamic Studies, 59(1), 127-162. https://doi.org/10.14421/ajis.2021.591.127-162
Caniago, F. (2022). Peran Pendidikan Agama di Keluarga dalam Mengurangi Penyalahgunaan Narkoba di Kalangan Remaja. Jurnal Sosio dan Humaniora, 1(1), 1-16. http://jurnal.politeknikpajajaran.ac.id/index.php/soma/article/view/16
Cholifah, N., & Galang, T. (2022). Implementation of Islamic Social Therapy Method for Drug Addicts at Boarding School. Journal of Advances in Education and Philosophy, 6(5), 288-292. : https://doi.org/10.36348/jaep.2022.v06i05.005
Fajar, M. (2022). Penerapan Rehabilitasi Medis dan Rehabilitasi Sosial Atas Penyalahgunaan Narkotika Bagi Diri Sendiri. Jurnal Sosial Teknologi, 2(5), 406-417. https://doi.org/10.36418/jurnalsostech.v2i5.333
Felicia, E. (2015). Kendala dan Upaya Rehabilitasi Bagi Pecandu Narkotika oleh Badan Narkotika Nasional Provinsi (BNNP) Yogyakarta. Thesis, Universitas Amat Jaya Yogyakarta. http://e-journal.uajy.ac.id/9033/
Herindrasti, V. L. S. (2018). Drug-free ASEAN 2025: Tantangan indonesia dalam penanggulangan penyalahgunaan narkoba. Jurnal Hubungan Internasional, 7(1), 19-33. https://doi.org/10.18196/hi.71122
Hidayat, R., & Karneli, Y. (2022). Efektivitas Pendekatan Rational Emotive Behavior Therapy Setting Kelompok untuk Meningkatkan Kontrol Diri Siswa dalam Pencegahan Penyalahgunaan Narkoba. ITQAN: Jurnal Ilmu-Ilmu Kependidikan, 13(2), 35-44. https://doi.org/10.47766/itqan.v13i2.525
Hidayati, I. (2017). Metode Dakwah dalam Menguatkan Resiliensi Korban Penyalahgunaan Narkotika, Psikotropika, dan Zat Adiktif Lainnya (napza). Jurnal Ilmu Dakwah, 36(1), 170-187. https://doi.org/10.21580/jid.v36.1.1630
Lovett, K. L., & Weisz, C. (2021). Religion and recovery among individuals experiencing homelessness. Journal of religion and health, 60(6), 3949-3966. https://doi.org/10.1007/s10943-020-01060-1
Mahesti, R. (2018). Pendampingan Rehabilitasi Bagi Pecandu dan Korban Penyalahgunaan Narkotika. Lembaran Masyarakat: Jurnal Pengembangan Masyarakat Islam, 4(1), 51-69. https://doi.org/10.32678/lbrmasy.v4i1.4294
Maysarah, M. (2020). Pemenuhan Hak Asasi Manusia Dalam Pelaksanaan Rehabilitasi Berdasarkan Undang-Undang No. 35 Tahun 2009 Tentang Narkotika. SOSEK: Jurnal Sosial dan Ekonomi, 1(1), 52-61. https://doi.org/10.55357/sosek.v1i1.54
Muazaroh, S., & Subaidi, S. (2019). Kebutuhan Manusia dalam Pemikiran Abraham Maslow (Tinjauan Maqasid Syariah). Al-Mazaahib: Jurnal Perbandingan Hukum, 7(1), 17-33. https://doi.org/10.14421/al-mazaahib.v7i1.1877
Natalia, S., & Humaedi, S. (2020). Bahaya Peredaran Napza Pada Masa Pandemi Covid-19 Di Indonesia. Prosiding Penelitian & Pengabdian Kepada Masyarakat, 7, 387-392.
Nebi, O. (2019). Faktor Penyebab Pengguna Narkotika di Kalangan Masyarakat. Wajah Hukum, 3(1), 81-88. http://dx.doi.org/10.33087/wjh.v3i1.59
Nurfadhilah, N., Purnamawati, D., & Robalais, A. N. (2021). Penguatan Peran Remaja dalam Pencegahan dan Pengendalian NAPZA pada Masa Pandemi Covid-19. Community Empowerment, 6(4), 572-578. https://doi.org/10.31603/ce.4566
Pramesti, M., Putri, A. R., Assyidiq, M. H., & Rafida, A. A. (2022). Adiksi Narkoba: Faktor, Dampak, dan Pencegahannya. Jurnal Ilmiah Permas: Jurnal Ilmiah STIKES Kendal, 12(2), 355-368. https://journal2.stikeskendal.ac.id/index.php/PSKM/article/view/108
Rachman, R. F. (2019). Kebijakan Sosial Penanggulangan Narkoba Di Surabaya Dalam Perspektif Islam. Fenomena, 18(2), 223-237. https://doi.org/10.35719/fenomena.v18i2.27
Rahman, A. M. R. (2021). Tindak Pidana Penyalahgunaan Narkotika oleh Anggota Kepolisian Republik Indonesia. Jurnal Kajian Hukum, 6(2), 16-24. http://e-journal.janabadra.ac.id/index.php/KH/article/view/1686
Rois, N. (2019). Konsep Motivasi, Perilaku, dan Pengalaman Puncak Spiritual Manusia dalam Psikologi Islam. Jurnal PROGRESS: Wahana Kreativitas dan Intelektualitas, 7(2), 184-198. http://dx.doi.org/10.31942/pgrs.v7i2.3096
Ruisoto, P., & Contador, I. (2019). The role of stress in drug addiction. An integrative review. Physiology & behavior, 202, 62-68. https://doi.org/10.1016/j.physbeh.2019.01.022
Saputra, M. R. (2019). Strategi Konseling Bagi Korban Penyalahgunaan Narkoba. JIMBK: Jurnal Ilmiah Mahasiswa Bimbingan & Konseling, 4(4). https://jim.unsyiah.ac.id/pbk/article/view/13759
Saputro, D. (2021). Efektivitas Hukuman Penjara bagi Penyalahgunaan Narkotika sesuai dengan Undang-Undang Republik Indonesia Nomor 35 Tahun 2009 Tentang Narkotika. Journal of Law (Jurnal Ilmu Hukum), 6(2), 453-473.
Subandi, M. A., Chizanah, L. L., & Subhan, S. (2022). Psychotheraputic dimensions of an Islamic-sufi-based rehabilitation center: A case study. Culture, Medicine, and Psychiatry, 46(2), 582-601. https://doi.org/10.1007/s11013-021-09738-1
Sulastiana, (2021). Mengungkap Ekologi Kejahatan Narkotika. Jakarta: PT. Rayyana Komunikasindo.
Supriyanto, A., Hendiani, N., Hartini, S., & Sabri, F. (2021). Addiction Counselor Profession: Perception of Family Support for Recovering from Drug Abuse Addiction. Counsellia: Jurnal Bimbingan dan Konseling, 11(1), 17-30. http://doi.org/10.25273/counsellia.v11i1.8585
Tampinongkol, A. W. (2022). Efektivitas Berlakunya Undang-undang Narkotika di Lingkungan Badan Narkotika Nasional Republik Indonesia. Thesis, Universitas Kristen Indonesia). http://repository.uki.ac.id/7664/
Ula, M., Zuhri, A., & Farmawati, C. (2020). Penyuluhan Anti Narkoba Berbasis Spiritual Islam. Abdimas: Jurnal Pengabdian Masyarakat Universitas Merdeka Malang, 5(2), 105-114. https://doi.org/10.26905/abdimas.v5i2.4059
Ulfa, L., & Justiatini, W. N. (2021). Peran Bimbingan Keagamaan dalam Rehabilitasi Pecandu Narkoba. Iktisyaf: Jurnal Ilmu Dakwah dan Tasawuf, 3(2), 55-77. https://doi.org/10.53401/iktsf.v3i2.67
Wardana, A., & Siskawati, Z. (2019). Penerapan Metode Tutor Sebaya Dalam Meningkatkan Bacaan AL-Qur'an Siswa di Mts Darul Ihsan. AL-QOLAM: Jurnal Dakwah dan Pemberdayaan Masyarakat, 3(2), 183-194. http://journal.staihubbulwathan.id/index.php/alqolam/article/view/207
Zatrahadi, M. F., Firman, F., & Yusuf, A. M. (2021). Konseling Spiritual Bagi Pasien Pecandu Narkoba Di Rumah Sakit Jiwa Tampan Pekanbaru. Jurnal Administrasi Pendidikan & Konseling Pendidikan, 2(2), 104-116. http://dx.doi.org/10.24014/japkp.v2i2.15304
Zilverstand, A., Huang, A. S., Alia-Klein, N., & Goldstein, R. Z. (2018). Neuroimaging Impaired Response Inhibition and Salience Attribution in Human Drug Addiction: A Systematic Review. Neuron, 98(5), 886-903. https://doi.org/10.1016/j.neuron.2018.03.048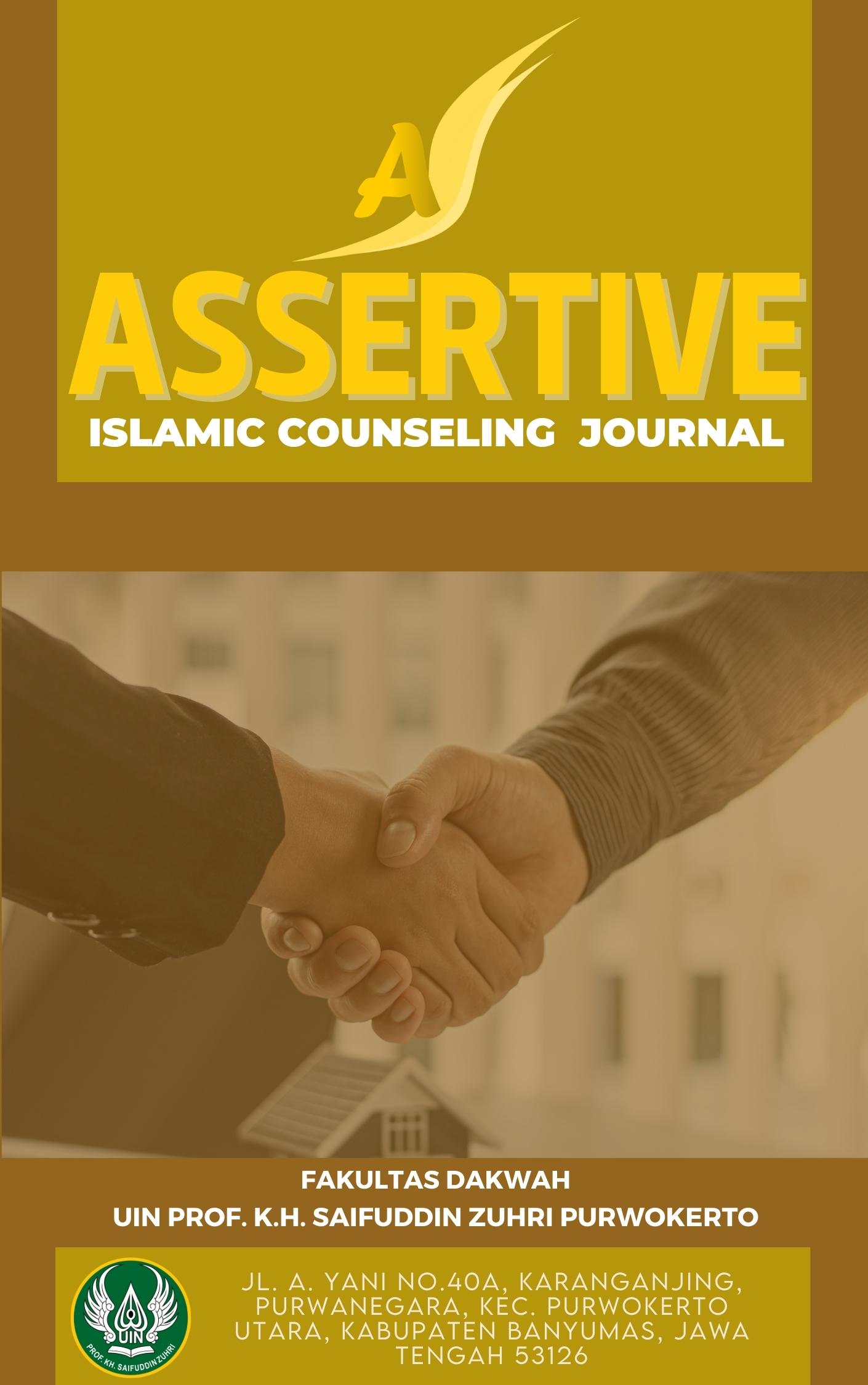 Downloads
How to Cite
Leli Istikomah, Karomatun Nisak, & Nur Azizah. (2022). Bimbingan Rohani Islam dalam Mengembangkan Spiritual bagi Korban Penyalahgunaan Napza. Assertive: Islamic Counseling Journal, 1(2), 69–80. Retrieved from https://ejournal.uinsaizu.ac.id/index.php/assertive/article/view/7200
License
Copyright (c) 2022 Leli Istikomah, Karomatun Nisak, Nur Azizah
This work is licensed under a Creative Commons Attribution 4.0 International License.