Legal Protection for Parties in Sale and Purchase Transactions of Virtual Objects
Abstract
This study aimed to analyze the regulation concerning transactions of buying and selling virtual objects in Indonesia and find out the legal protection for the parties in the event of default in such transactions. This study was normative juridical research using secondary data and statute approach. Virtual objects are intangible objects that, referring to Article 499 of the Civil Code, can be claimed, can be of property rights, and have economic value. The regulation concerning transactions for virtual objects refers to arrangement of buying and selling transactions in the Civil Code, specifically in Articles 1457 to Article 1540 there of. Legal protection for the parties in buying and selling virtual objects refers to the agreement made by the parties. However, in buying and selling virtual objects, there is no written agreement except an agreement made based on conversations via social media of the parties, such as WhatsApp or E-mail. Therefore, any default committed by either party can only be proven by the provisions made by the parties in their conversations. On this matter, referring to Law No. 8 of 1999 concerning Consumer Protection, business actors are entitled to receive payments or goods, while the consumers are entitled to receive compensation if the goods received are not in accordance with the agreement.
Downloads
Download data is not yet available.
References
Ahmad Fauzi, Ismail Koto. "PERLINDUNGAN HUKUM BAGI KONSUMEN YANG TELAH DILANGGAR HAKNYA MELALUI JALUR LITIGASI DAN NON-LITIGASI." Jurnal Yuridis 9, no. 1 (2022): 14.
Aji, Chandra Zebeh. "Berburu Rupiah Lewat Game Online," 1. Yogyakarta: Bouna Books, 2012.
Aliah, Siti Sarifah. "Lahan Virtual Di Metaverse Raffi Ahmad Terjual 537 Unit." Gadget.Viva.Go.Id, September 12, 2022.
Ariesky, Dio. "Virtual Property Dalam Hukum Benda Indonesia." Universitas Islam Indonesia, 2016.
Asikin, Amiruddin dan Zainal. Pengantar Metode Penelitian Hukum. 11th ed. Depok: PT Raja Grafindo Persada, 2020.
Badrulzaman, Mariam Darus. Sistem Hukum Benda Nasional. 1st ed. Bandung: PT. ALUMNI, 2015.
Burhan, Fahmi Ahmad. "Mengenal Teknologi Di Balik Metaverse RansVerse Milik Raffi Ahmad." Katadata.Co.Id, 2022.
Christanti, Adelina. "KEABSAHAN PERJANJIAN JUAL BELI VIRTUAL PROPERTY DAN AKIBAT HUKUM DARI ANONIMITAS DALAM PERJANJIAN JUAL BELI VIRTUAL PROPERTY." Https://Medium.Com/. Universitas Atmajaya Yogyakarta, 2020.
Dalimunthe, Dermina. "AKIBAT HUKUM WANPRESTASI DALAM PERSPEKTIF KITAB UNDANGUNDANG HUKUM PERDATA (BW)." Jurnal Al-Maqasid 3, no. 1 (2017): 14. https://doi.org/10.24952/almaqasid.v3i1.1444.g1177.
Danuri, Muhamad. "Development and Transformation of Digital Technology." Infokam XV, no. II (2019): 116–23.
Dery Ary Setyawati, Dahlan, M. Nur Rasyid. "Perlindungan Bagi Hak Konsumen Dan Tanggung Jawab Pelaku Usaha Dalam Perjanjian Transaksi Elektronik." Syiah Kuala Law Journal 1, no. 3 (2017): 36.
Doni, Yosef Freinademetz Sabon. "Kedudukan Fitur-Fitur Virtual Game Online Dalam Kitab Undang-Undang Hukum Perdata," no. 28 (2014).
Efendi, Jonaedi dan Johnny Ibrahim. Metode Penelitian Hukum Normatif Dan Empiris. Depok: Prenadamedia Group, 2018.
Fairfield, Joshua A.T. "Virtual Property." Boston University Law Review 85, no. 1074 (2005).
Gerungan, Anastasia E. "Perlindungan Hukum Terhadap Rahasia Dagang Ditinjau Dari Aspek Hukum Perdata Dan Pidana Di Indonesia." Jurnal Hukum Unstrat 22, no. 5 (2016): 69.
Hantono, Dedi, and Diananta Pramitasari. "ASPEK PERILAKU MANUSIA SEBAGAI MAKHLUK INDIVIDU DAN SOSIAL PADA RUANG TERBUKA PUBLIK." Nature: National Academic Journal of Architecture 5, no. 2 (December 28, 2018): 85. https://doi.org/10.24252/nature.v5i2a1.
Hariyanto, Hariyanto. "Pembangunan Hukum Nasional Berdasarkan Nilai-Nilai Pancasila." Volksgeist: Jurnal Ilmu Hukum Dan Konstitusi 1, no. 1 (June 7, 2018): 53–63. https://doi.org/10.24090/volksgeist.v1i1.1731
Junisa, Della. "Peralihan Hak Milik Virtual Property Melalui Jual Beli Dalam Sistem Hukum Indonesia," 2017.
Khairunissa, Alinda. "Perlindungan Hukum Pada End User License Agreement (Perjanjian Lisensi Pengguna Akhir) Bagi Pengguna Media Sosial Facebook." Private Law 10, no. 1 (2020): 95.
Kurniawan, Faidillah. "E-Sport Dalam Fenomena Olahraga Kekinian." JORPRES (Jurnal Olahraga Prestasi) 15, no. 2 (2019): 3.
Langi, Marvita. "Akibat Hukum Terjadinya Wanprestasi Dalam Perjanjian Jual Beli." Lex Privatum 4, no. 3 (2016): 151506.
Meliala, Djaja. S. Perkembangan Hukum Perdata Tentang Benda Dan Hukum Perikatan. Bandung: Nuansa Aulia, 2015.
Muhaimin. Metode Penelitian Hukum. Mataram: Mataram University Press, 2020.
Nurani Ajeng Tri Utami, Nayla Alawiya. "Perlindungan Hukum Terhadap Pelayanan Kesehatan Tradisional Di Indonesia." Volksgeist 1, no. 1 (2018): 15. https://doi.org/10.24090/volksgeist.v1i1.1605.
Nurhayani, Neng Yani. Hukum Perdata, 2016.
Nuril, Iqbal. "Prediksi E-Sports 2022: Menuju Puncak Gemilang?" Ggwp.Id, 2022.
Prasetyo, Bayu Ade. "Keabsahan Jual Beli Item Game Online Ditinjau Dari Perspektif Hukum Perdata." Universitas 17 Agustus 1945 Surabaya, 2022.
Ranto, Roberto. "Tinjauan Yuridis Perlindungan Hukum Terhadap Konsumen Dalam Transaksi Jual Beli Melalui Media Elektronik." Jurnal Ilmu Hukum ALETHEA 2, no. 2 (2019): 146.
Rasjidi, Lili, and Thania Rasjidi. Pengantar Filsafat Hukum. Bandung: Mandar Maju, 2012.
Rizkinaswara, Leski. "Pemerintah Dorong Ekosistem E-Sport Lewat Ajang Piala Presiden 2021." Aptika.Kominfo.Go.Id. September 14, 2021.
Salsabilla, Anastasya Putri, and Muhammad Faiz Mufidi. "Aspek Hukum Kebendaan Virtual Property Dalam Real Money Trading Ditinjau Dari Buku II KUHPerdata Dan Akibat Hukumnya Terhadap Para Pihak." Bandung Conference Series 2, no. 1 (2022): 487–93.
Setiawan, daryanto. "Dampak Perkembangan Teknologi Informasi Dan Komunikasi Terhadap Budaya Impact of Information Technology Development and Communication On." Jurnal Pendidikan X, no. 2 (2017): 195–211.
Sinaga, Niru Anita. "Implementasi Hak Dan Kewajiban Para Pihak Dalam Hukum Perjanjian." Jurnal Ilmiah Hukum Dirgantara 10, no. 1 (2019): 2.
Sujana, Hanifudin. Kajian Hukum Asas Itikad Baik Dalam Perjanjian Jual Beli Benda Bergerak. Jember: Fakultas Hukum, UNEJ, 2013.
Tampubolon, Wahyu Simon. "Upaya Perlindungan Hukum Bagi Konsumen Ditinjau Dari Undang-Undang Perlindungan Konsumen." Jurnal Ilmiah "Advokasi" 4, no. 1 (2016): 53–54. https://doi.org/10.36987/jiad.v4i1.356.
Tosepu, Yusrin Ahmad. MEDIA BARU DALAM KOMUNIKASI POLITIK (Komunikasi Politik I Dunia Virtual). Surabaya: Jakad Publishing, 2018.
Tuppang, Karen Angela Batara. "PERLINDUNGAN HUKUM TERHADAP HAK CIPTA BENDA-BENDA BERSEJARAH MENURUT UNDANG-UNDANG NOMOR 11 TAHUN 2010 TENTANG CAGAR BUDAYA." Lex Et Societatis 7, no. 7 (2019): 17.
Yahyanto, Lukman Santoso Az. Pengantar Ilmu Hukum. Malang: Setara Press, 2016.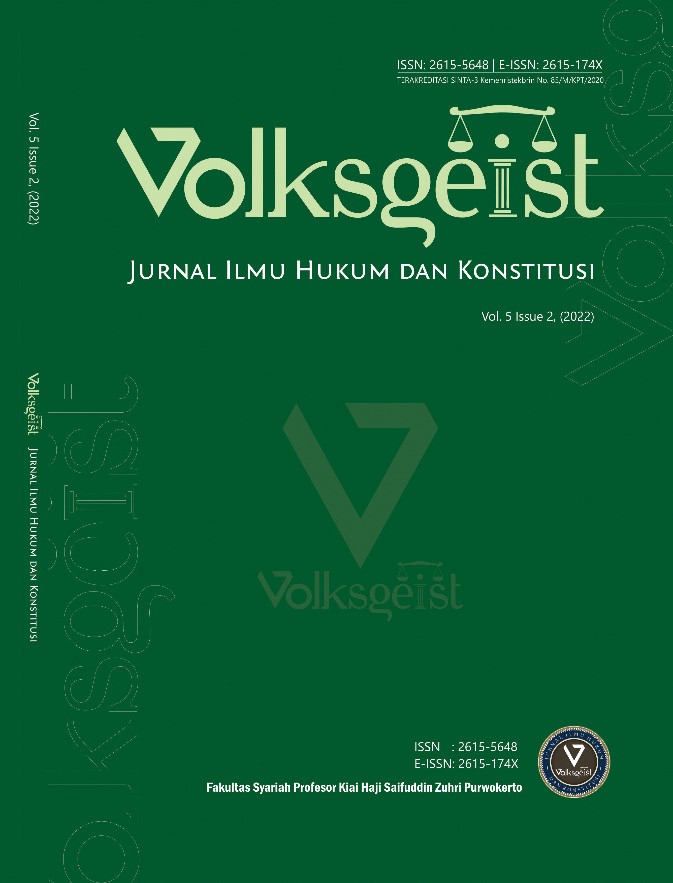 Downloads
How to Cite
Metthania, A. Z., & Dalimunthe, S. N. I. S. (2022). Legal Protection for Parties in Sale and Purchase Transactions of Virtual Objects. Volksgeist: Jurnal Ilmu Hukum Dan Konstitusi, 5(2), 267–277. https://doi.org/10.24090/volksgeist.v5i2.7066
License
Copyright (c) 2022 Arzetta Zahra Metthania, Siti Nurul Intan Sari Dalimunthe
This work is licensed under a Creative Commons Attribution-ShareAlike 4.0 International License.
Copyright Notice
Authors who publish with this journal agree to the following terms: Authors retain copyright and grant the journal right of first publication with the work simultaneously licensed under a Creative Commons Attribution-ShareAlike 4.0 International License that allows others to share the work with an acknowledgment of the work's authorship and initial publication in this journal.