RELASI KIYAI-SANTRI DI PESANTREN MODERN ALKHAIRAAT MANADO
Keywords:
Kyai, Santri, Pesantren of Alkhairat, Tradition Caretaker
Abstract
Pesantren 's distinctive characteristics, is an intelligent cultural product which should be maintained and preserved sustainably. In Manado, Pesantren Alkhairaat becomes an important element in preserving tradi- tions of kepesantrenan (a-la pesantren) which is influenced by Arab tradi- tion. The relationship between kiai (clerics) with their santri (students), as a caretaker-caregiver should be studied, to determine the attempt of those two elements in maintaining pesantren's unique traditions, as also the patterns of relationship that exist between them. As an Islamic insti- tution in Manado, Pesantren Alkhairaat until recently is still practicing some of typical Islamic traditions that became it's trademark. Relation- ship between various elements, especially kiai-santri is an important fac- tor for the continuity of these traditions in the future. Moreover, kiai- santri relationship in Pesantren Akhairaat Manado is more likely based on emotional relationships.
Downloads
Download data is not yet available.
References
Arif, Mahmud, 2008, Pendidikan IslamTransformatif, Yogyakarta: LKiS.

Azra, Azyumardi, 1999, Pendidikan Islam: Tradisi dan Modernisasi Menuju Milenum Baru, Jakarta: Logos Wacana Ilmu.

Dhofier,Zamakhsari,1982,Tradisi Pesantren Studi; Atas Pandangan Hidup Kyai, Jakarta: LP3ES.

Fikriyati, Umi Najikhah, 2010, "Tradisi Pesantren di Tengah Perubahan Sosial (Studi Kasus pada Pondok Pesantren Al-Munawwir Krapyak Yogyakarta), Thesis, Yogyakarta: UIN Suka Yogyakarta.

Jumat, Gani, Nasionalisme Ulama: Pemikiran Politik Kebangsaan Sayyid Idrus Bin Salim Aljufry, 1891-1969, 2012, Jakarta: Kementrian Agama RI.

Muhtadi, Asep Saeful, 2004, Komunikasi Politik Nahdlatul Ulama: Pergulatan Pemikiran Politik Radikal dan Akomodatif, Jakarta: LP3ES.

Nurhayati, Lina Zulfa, Faktor-Faktor yang Mempengaruhi Tingginya Angka Cerai Gugat (Studi Perkara di Pengadilan Agama Yogyakarta Tahun 2006-2008), 2008, Thesis, Yogyakarta: UIN Suka Yogyakarta.

Qomar, Mujamil, tt.,Pesantren: Dari Transformasi Metodologi Menuju Demokratisasi Institusi, Jakarta: Erlangga

Siradj, Said Aqil, 2014, Pendidikan Karakter Berbasis Tradisi Pesantren, Jakarta: Rumah Kitab.

Thubany, Syamsul Hadi, Relasi Etis Kiai – Santri, dalam http://ditpdpontren.kemenag.go.id/opini/relasi-etis-kiai-santri/, Diunduh pada 3 Maret 2017.

Wahid, Abdurrahman, 2001, Menggerakkan Tradisi: Esai-esai Pesantren, Jakarta: LKiS.

Wikipedia Ensiklopedia Bebas, Habib, dalam https://id.wikipedia.org/wiki/Habib, diposkan pada 13 Februari 2017, pukul 04.20.

Wekke, Ismail Suardi, 2014, Model Pembelajaran Bahasa Arab, Yogyakarta: Deepublish.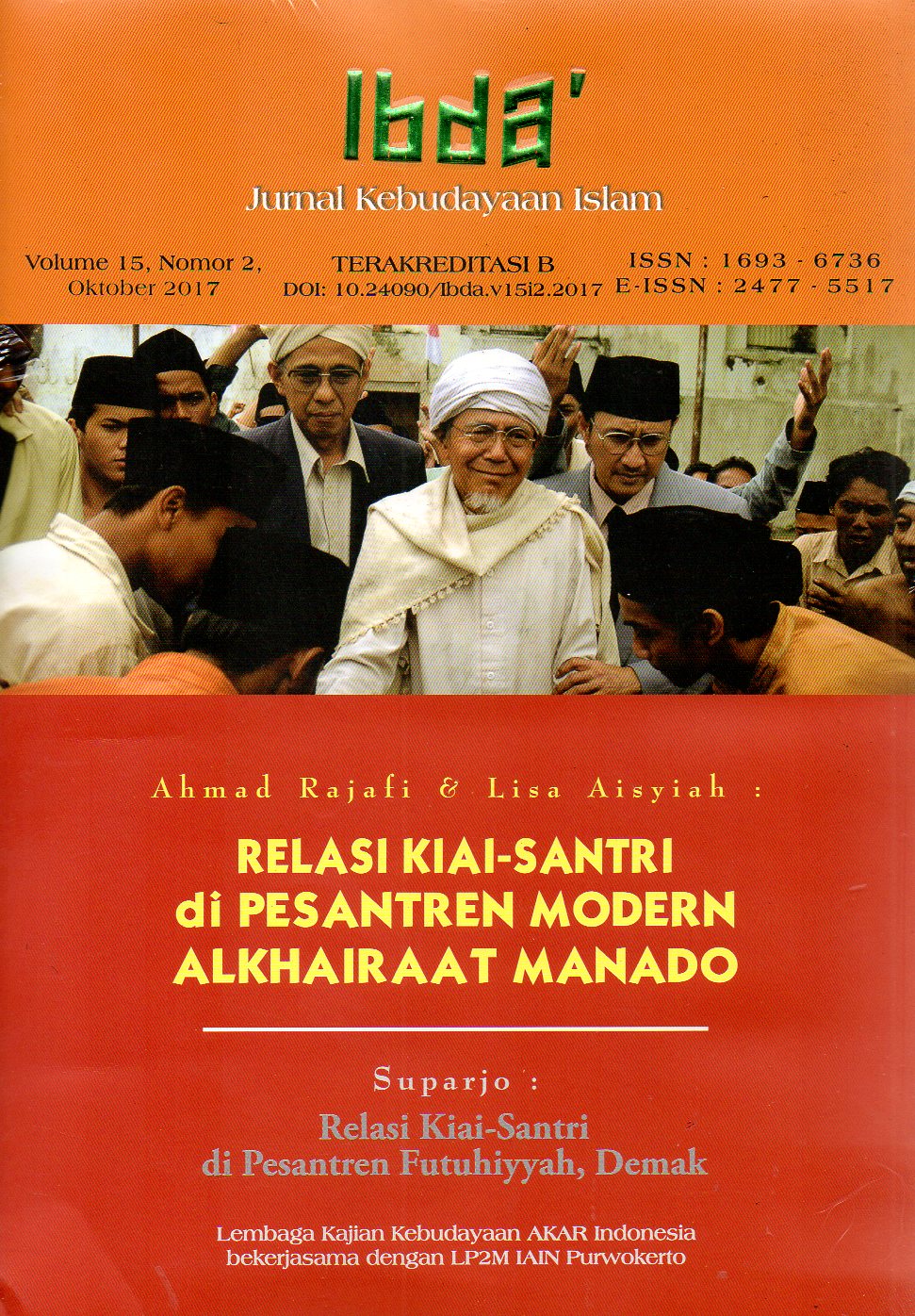 Downloads
How to Cite
Rajafi, A., & Aisyah, L. (2017). RELASI KIYAI-SANTRI DI PESANTREN MODERN ALKHAIRAAT MANADO. IBDA` : Jurnal Kajian Islam Dan Budaya, 15(2), 179–191. https://doi.org/10.24090/ibda.v15i2.1085
License
Authors who publish with this journal agree to the following terms:


Authors retain copyright and grant the journal right of first publication with the work simultaneously licensed under a Creative Commons Attribution License that allows others to share the work with an acknowledgement of the work's authorship and initial publication in this journal.
Authors are able to enter into separate, additional contractual arrangements for the non-exclusive distribution of the journal's published version of the work (e.g., post it to an institutional repository or publish it in a book), with an acknowledgment of its initial publication in this journal.
Authors are permitted and encouraged to post their work online (e.g., in institutional repositories or on their website) before and during the submission process, as it can lead to productive exchanges, as well as earlier and greater citation of published work (See The Effect of Open Access).