Effectiveness of Environmental Law Implementation: Compliance and Enforcement
Abstract
Environmental permits or approvals as part of environmental law enforcement have a strategic role as instruments for preventing environmental pollution and damage. To determine the effectiveness of environmental law enforcement, it is necessary to measure the extent to which legal regulations are complied with or not complied with. This study aims to determine the level of compliance of business actors/activities in environmental management and monitoring based on environmental permit/approval commitments. The research method used is descriptive quantitative research; with type of research is empirical juridical. The research location is focused on the Kebumen Regency, Central Java. The number of samples in this study were 34 business actors from various sectors and were taken using the Herry King Nomogram with an error rate of 10%. Determination of the level of obedience using the scoring of each indicator. There are 17 indicators measured and modified from the Regulation of the Minister of Environment and Forestry Number 1 of 2021. The study results show the level of obedience of business actors or activities in the Kebumen Regency is dominated by the non-compliant and disobedient category with a percentage of 62% or 21 business actors/activities. The business/activity sectors in the disobedient and disobedient categories include trade, industry, mining, energy, health service facilities and tourism facilities. Business actors in the obedient category own 38% or 13 business actors/activities. The business/activity sectors in the compliant category include health service facilities, industry and energy. The government can determine priority steps in environmental monitoring based on the level of compliance of business actors. Monitoring efforts can then be followed up with strict and sustainable enforcement of environmental law.
Downloads
Download data is not yet available.
References
Akhmaddhian, Suwari. "PENEGAKAN HUKUM LINGKUNGAN DAN PENGARUHNYA TERHADAP PERTUMBUHAN EKONOMI DI INDONESIA (Studi Kebakaran Hutan Tahun 2015)." Unifikasi : Jurnal Ilmu Hukum 3, no. 1 (February 2, 2016). https://doi.org/10.25134/unifikasi.v3i1.404.
Ali, Achmad. Menguak Teori Hukum Dan Teori Peradilan. Vol. 1. Jakarta: Kencana, 2010.
Ali, Muh Isra Bil, and Aminah Aminah Aminah. "PENEGAKAN HUKUM LINGKUNGAN HIDUP DALAM PERSPEKTIF KEADILAN SUBSTANTIF DI INDONESIA." SPEKTRUM HUKUM 18, no. 2 (October 20, 2021). https://doi.org/10.35973/sh.v18i2.1914.
Ali, Zainuddin. Metode Penelitian Hukum. 8th ed. Jakarta: Sinar Grafika, 2016.
Dinas Perumahan dan Kawasan Permukiman dan Lingkungan Hidup Kab. Kebumen. "Dokumen Informasi Kinerja Lingkungan Hidup Daerah Kab. Kebumen Tahun 2020." Kebumen, 2021.
Dompa, Timbul and Riyanda, Riyanda. "Analisis Efektivitas Kebijakan Dan Program Badan Pengendalian Dampak Lingkungan Daerah (Bapedalda) Kota Batam Terhadap Peningkatan Persentase Pelaksanaan AMDAL." Jurnal Niara 11, no. 1 (June 1, 2018): 62–70.
Fahruddin, Muhammad. "PENEGAKAN HUKUM LINGKUNGAN DI INDONESIA DALAM PERSPEKTIF UNDANG-UNDANG NOMOR 32 TAHUN 2009 TENTANG PERLINDUNGAN DAN PENGELOLAAN LINGKUNGAN HIDUP." Veritas 5, no. 2 (September 30, 2019): 81–98. https://doi.org/10.34005/veritas.v5i2.489.
Goesty, Prathika Andini, Adji Samekto, and Dwi P Sasongko. "ANALISIS PENAATAN PEMRAKARSA KEGIATAN BIDANG KESEHATAN DI KOTA MAGELANG TERHADAP PENGELOLAAN DAN PEMANTAUAN LINGKUNGAN HIDUP." Jurnal Ilmu Lingkungan 10, no. 2 (2012). https://doi.org/10.14710/jil.10.2.89-94.
Handoyo, Budi. "Legalitas Lingkungan Hidup Dalam Perspektif Keadilan Dan Hukum Administrasi Negara." Al-Ijtima'i-International Journal of Goverment and Social Science 2 (2017).
Hariyanto, Hariyanto. "Risk-Based Business License and Problems Arising After The Job Creation ACT." Jurnal IUS Kajian Hukum Dan Keadilan 10, no. 2 (August 23, 2022). https://doi.org/10.29303/ius.v10i2.1082.
Hidjaz, Kamal. "EFFECTIVENESS OF ENVIRONMENTAL POLICY ENFORCEMENT AND THE IMPACT BY INDUSTRIAL MINING, ENERGY, MINERAL, AND GAS ACTIVITIES IN INDONESIA." International Journal of Energy Economics and Policy 9, no. 6 (October 1, 2019): 79–85. https://doi.org/10.32479/ijeep.8146.
Kambuaya, Victorina Tutiana, Anton S. Sinery, and Max J. Tokede. "Realisasi Program Pengelolaan Dan Pemantauan Lingkungan (UKL-UPL) Di Kota Sorong." Cassowary 3, no. 2 (November 2020): 101–26. https://doi.org/10.30862/casssowary.cs.v3.i2.40.
Mahardika, Ahmad Gelora. "Implikasi Omnibus Law Terhadap Hak Konstitusional Atas Lingkungan Hidup Yang Sehat." Jurnal Konstitusi 18, no. 1 (2021). https://doi.org/10.31078/jk1819.
Mukhlish, Mukhlish. "Konsep Hukum Administrasi Lingkungan Dalam Mewujudkan Pembangunan Berkelanjutan." Jurnal Konstitusi 7, no. 2 (May 20, 2016): 067. https://doi.org/10.31078/jk724.
Peraturan Menteri Lingkungan Hidup dan Kehutanan Nomor 1 Tahun 2021 tentang Program Penilaian Peringkat Kinerja Perusahaan dalam Pengelolaan Lingkungan Hidup (2021).
Ramadhan, B.S, Hapsari, S.B, Pramesti, A.L, and Ikhlas, N. "Analisis Kuantitatif Sistem Manajemen Lingkungan Berdasarkan Klausul ISO 14001:2015." Jurnal Presipitasi : Media Komunikasi Dan Pengembangan Teknik Lingkungan, 1, 16 (2019): 1–7.
Rispalman. "Sejarah Perkembangan Hukum Lingkungan Di Indonesia." Jurnal Dusturiah 8, no. 2 (n.d.): 185–96.
Sari, Indah. "Penegakkan Hukum Lingkungan Menuju Tercapainya Keadilan Lingkungan." Jurnal Mitra Manajemen 8, no. 2 (2016): 19–34.
Sari, Puspita Fitri, M Makmur, and M Rozikin. "Efektifitas Implementasi UKL-UPL Dalam Mengurangi Kerusakan Lingkungan (Studi Pada Badan Lingkungan Hidup Kabupaten Malang Dan Masyarakat Sekitar PT Tri Surya Plastik Kecamatan Lawang)." Administrasi Publik (JAP) 2, no. 1 (2014): 161–68.
Soekanto, Soerjono. Faktor-Faktor Yang Mempengaruhi Penegakan Hukum. Jakarta: PT. Raja Grafindo Persada, n.d.
Sugiyono. Metode Penelitian Kuantitatif, Kualitatif, Dan Tindakan. 5th ed. Alfabeta, 2013.
Sukananda, Satria, and Danang Adi Nugraha. "Urgensi Penerapan Analisis Dampak Lingkungan (AMDAL) sebagai Kontrol Dampak terhadap Lingkungan di Indonesia." Jurnal Penegakan Hukum dan Keadilan 1, no. 2 (2020). https://doi.org/10.18196/jphk.1207.
Tias, Nunung Prihatining. "Efektivitas Pelaksanaan AMDAL Dan UKL-UPL Dalam Pengelolaan Lingkungan Hidup Di Kabupaten Kudus." Universitas Diponegoro, 2009.
Undang-Undang No. 32 Tahun 2009 tentang Perlindungan dan Pengelolaan Lingkungan Hidup, Pub. L. No. 32 (2009).
Yahya, Taufik, Idris, Isran, and Arsyad. "EFEKTIFITAS PENEGAKAN HUKUM LINGKUNGAN DALAM KERANGKA PENGELOLAAN SUMBER DAYA ALAM HAYATI DI KAWASAN HUTAN TAMAN NASIONAL BUKIT TIGAPULUH." Jurnal Inovatif, I, XII (2019): 12.
Yakin, Sumadi Kamarol. "ANALISIS MENGENAI DAMPAK LINGKUNGAN (AMDAL) SEBAGAI INSTRUMEN PENCEGAHAN PENCEMARAN DAN PERUSAKAN LINGKUNGAN." Badamai Law Journal 2, no. 1 (April 2017): 113–113. https://doi.org/10.32801/damai.v2i1.3393.
Zam Zam, Zulkifli, and I Made Putrawan. "EVALUASI KEBIJAKAN PENGELOLAAN LINGKUNGAN PERTAMBANGAN DI PULAU OBI PROVINSI MALUKU UTARA." Jurnal Ilmiah Pendidikan Lingkungan Dan Pembangunan 21, no. 02 (September 2020): 58–68. https://doi.org/10.21009/plpb.212.05.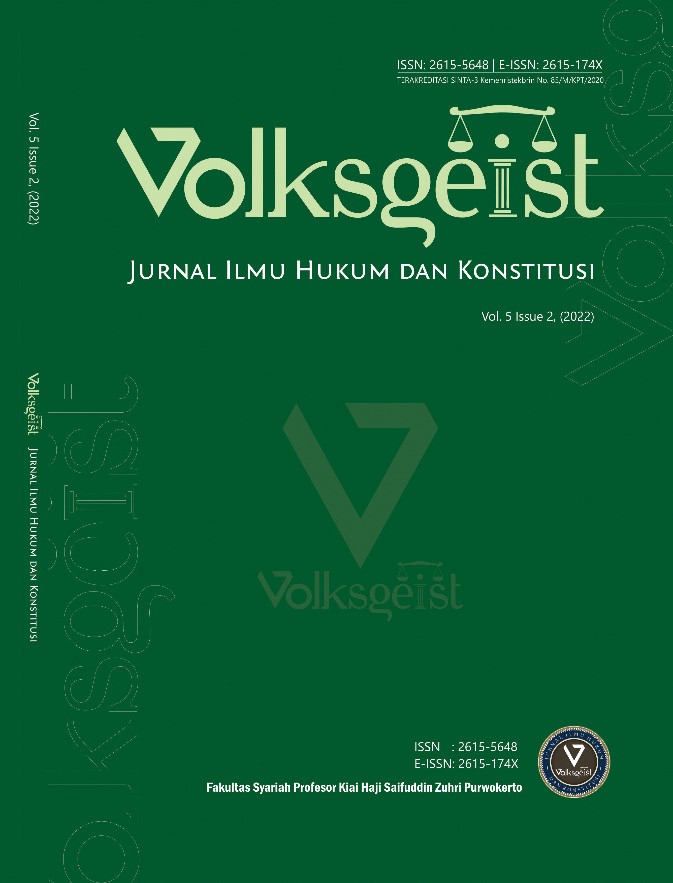 Downloads
How to Cite
Prasetyaningsih, D. M., Hendarto, E., Anwar, N., & Elfaki, K. E. (2022). Effectiveness of Environmental Law Implementation: Compliance and Enforcement. Volksgeist: Jurnal Ilmu Hukum Dan Konstitusi, 5(2), 215–225. https://doi.org/10.24090/volksgeist.v5i2.6826
License
Copyright (c) 2022 Dyah Mustika Prasetyaningsih, Eko Hendarto, Nurul Anwar, Khalid Eltayeb Elfaki
This work is licensed under a Creative Commons Attribution-ShareAlike 4.0 International License.
Copyright Notice
Authors who publish with this journal agree to the following terms: Authors retain copyright and grant the journal right of first publication with the work simultaneously licensed under a Creative Commons Attribution-ShareAlike 4.0 International License that allows others to share the work with an acknowledgment of the work's authorship and initial publication in this journal.