Penegakan Hukum terhadap PT Rayon Utama Makmur Akibat Limbah Tekstil yang Merugikan Warga
Keywords:
Law enforcement; justice; weak sociaty.
Abstract
Based on the 1945 Constitution Article 1 paragraph 3, Indonesia is a state ruled by law since the constitution of Indonesia incorporated several legal systems. The law should be fair, impartial to those in power and not intimidate the weak. However, the law is often misused and traded for the interests of those in power. This study aims to find out how the law is enforced against PT Rayon Utama Makmur that has harmed local residents for causing environmental pollution as a result of the textile factory activities. Data are collected from literature. The theory used is the conflict theory of Karl Marx given that there was a conflict of interest between PT Rayon Utama Makmur and the local residents. The results of the study indicate that the law enforcement against PT Rayon Utama Makmur is still very weak. After being proven to have polluted the environment by dumping the factory waste into the river thus endangering the health of the residents, PT Rayon Utama Makmur did not receive any significant sanctions so that it did not cause a deterrent effect for the company. The weak law enforcement for PT Rayon Utama Makmur caused injustice for the residents. And that gradually triggered a conflict between the residents and the company.
Downloads
Download data is not yet available.
References
Anggraeni, Primastuti Sari. "Penegakan Hukum Administrasi Terhadap Pelanggaran Ketentuan Izin Mendirikan Bangunan Untuk Kegiatan Usaha Di Kabupaten Klaten." UAJY, 2017.
Assiddiqie, Jimmly. "Gagasan Negara Hukum Di Indonesia." Pengadilan Negeri Gunungsitoli, 2011, 1–17.
———. "Penegakan Hukum," n.d.
Bidari, Ashinta Sekar. "KETIDAKADILAN HUKUM BAGI KAUM SANDAL JEPIT." Journal Fakultas Hukum Universitas Surakarta, 2014.
Bram, Damianus. "Sanksi Untuk PT RUM Tidak Berdampak, Warga Melapor Ke Kementrian Dan Lembaga." 6 Januari, 2022.
Buwono X, Sultan Hamengku. Merajut Kembali Indonesia Kita. Jakarta: Gramedia Pustaka, 2007.
Enrico. "Dampak Limbah Cair Industri Tekstil Terhadap Lingkungan Dan Aplikasi Tehnik Eco Printing Sebagai Usaha Mengurangi Limbah." Moda 1, no. 1 (2019): 5–13.
Fauzia, Marliana Eka, Program Studi, and Administrasi Publik. "Manajemen Konflik Warga Sukoharjo." PUBLISA: Jurnal Ilmu Administrasi Publik 6, no. 1 (2021): 73–79. https://doi.org/Prefix 10.26905.
Firmansyah, Teguh. "JK : Konflik Besar Di Indonesia Terjadi Karena Ketidakadilan." 15 Januari, 2022.
Hadjon, Philipus M. Pengantar Hukum Administrasi Indonesia, 2019.
Hariyanto, Hariyanto. "Hubungan Kewenangan Antara Pemerintah Pusat Dan Pemerintah Daerah Berdasarkan Negara Kesatuan Republik Indonesia." Volksgeist: Jurnal Ilmu Hukum Dan Konstitusi 3, no. 2 (December 29, 2020): 99–115. https://doi.org/10.24090/volksgeist.v3i2.4184.
———. "Prinsip Keadilan Dan Musyawarah Dalam Hukum Islam Serta Implementasinya Dalam Negara Hukum Indonesia." Justicia Islamica 11, no. 1 (June 1, 2014). https://jurnal.iainponorogo.ac.id/index.php/justicia/article/view/92.
Ilham, Oleh :, and Aryo Pangestu. "Dampak Pencemaran Lingkungan Akibat Limbah Industri (Studi Kasus Kawasan Industri Perusahaan Tekstil Milik Asing Di Sungai Citarum)," n.d.
Kusnandar, Adit. "Revolusi Industri 1.0 Hingga 4.0." Forkomsi FEB UGM, 2019, 305.
Lestari, Sulistyani Eka. "KAJIAN HUKUM DAN TINDAKAN BAGI PELANGGARAN UNDANG-UNDANG NOMOR 32 TAHUN 2009 TENTANG PERLINDUNGAN DAN PENGELOLAAN LINGKUNGAN HIDUP.Pdf." MIMBAR YUSTITIA Jurnal Hukum Dan Hak Asasi Manusi 1, no. 1 (2017): 15. https://doi.org/https://doi.org/10.52166/mimbar.v1i1.567.
Loilewendan, Aline Febriany, Titin Titawati, Gede Tusan Ardika, and Ramli. "PENCEMARAN LINGKUNGAN MENURUT UNDANG-UNDANG NO.32 TAHUN 2009 TENTANG." Jurnal Ganec Swara 16, no. 1 (2022): 1378–84.
Maharani Rahayu, Annisa. "Sampurasun Dedy Mulyadi: Lokalitas Sunda vs Islamisasi FPI." Conflict Management Unnes Student Working Paper Series 2017, 2017.
Purbaya, Angling Adhitya. "Dibui Karena Melawan Pencemaran, 7 Aktivis Langsung Banding." 8 Agustus, 2018.
Putri, Aninda. "Warga Sukoharjo Kembali Keluhkan Limbah PT RUM." 16 April, 2021.
Rezi, R, S H Absori, S H Wardah Yuspin, and M Kn. "Penegakan Hukum Sengketa Lingkungan PT Rayon Utama Makmur Di Kabupaten Sukoharjo, Jawa Tengah," 2020.
Ritzer, Gorge. Sosiologi Ilmu Pengetahuan Berparadigma Ganda. Edited by Alimandan. Jakarta: Rajawali Pers, 2010.
Wardani, Indah Septiyaning. "Demo PT RUM Sukoharjo, Warga : Bupati, Kami Kecewa Padamu." 20 Desember, 2019.
Wayan Yuningrat, Ni, Ni Putu Sri Ayuni, Ni Wayan Martiningsih, I Made Gunamantha, and Gede Agus Beni Widana. "TEKNOLOGI TEPAT GUNA PENGOLAHAN LIMBAH TEKSTIL BAGI INDUSTRI TENUN BINTANG TIMUR." Jurnal Widya Laksana 7, no. 1 (2018).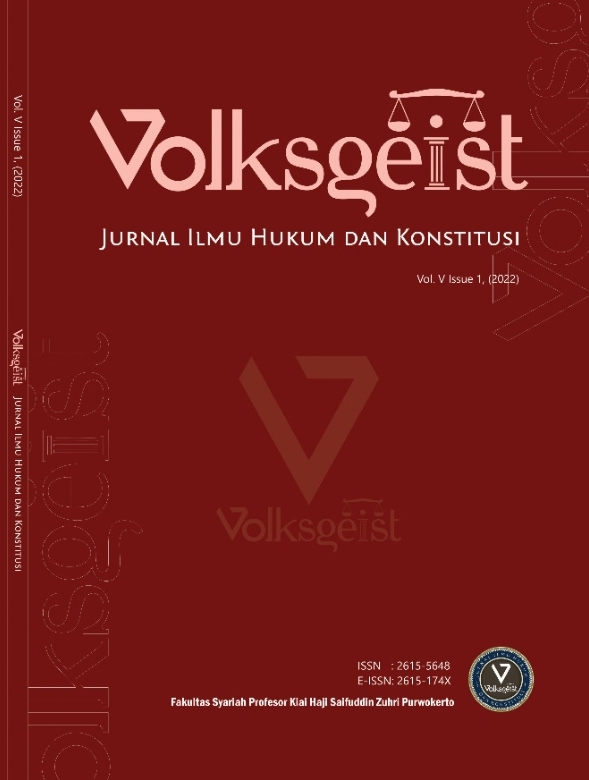 Downloads
How to Cite
Sari, W. A. N. (2022). Penegakan Hukum terhadap PT Rayon Utama Makmur Akibat Limbah Tekstil yang Merugikan Warga. Volksgeist: Jurnal Ilmu Hukum Dan Konstitusi, 5(1), 69–79. https://doi.org/10.24090/volksgeist.v5i1.6423
License
Copyright Notice
Authors who publish with this journal agree to the following terms: Authors retain copyright and grant the journal right of first publication with the work simultaneously licensed under a Creative Commons Attribution-ShareAlike 4.0 International License that allows others to share the work with an acknowledgment of the work's authorship and initial publication in this journal.