The Urgency of MUI Halal Fatwa about Food, Beverage, Medicine and Cosmetic Products for the Consumer Protection
Keywords:
Halal fatwa; MUI; consumer protection.
Abstract
This study examines how important it is to determine the halal fatwa of MUI for food, beverage, pharmaceutical and cosmetic products. Given that there are still many fraudulent practices committed by business actors or producers in the product manufacturing process, causing harm to consumers. While Law no. 8 of 1999 concerning Consumer Protection has guaranteed the safety of every citizen as a consumer. Then what is the form of legal protection by the state for consumers? And how important is the determination of the MUI's halal fatwa for consumer protection? This type of research is qualitative research with a normative juridical approach. Data collection techniques through exploration and documentation, namely collecting data regarding the establishment of halal fatwas, legal protection and Law no. 8 of 1999 concerning Consumer Protection. The results of this study indicate that the form of legal protection for consumers in Indonesia includes preventive, repressive and juridical legal protection as well as institutions whose role is to audit products such as LPPOM MUI, BPOM and other inspection agencies. The halal certification process can be carried out when a business actor applies for a halal certificate, then verification and validation, inspection by the LPPOM MUI halal auditor, the process of meeting the MUI fatwa commission, issuing a halal decree and issuing a halal certificate. Determination of MUI halal fatwa for each product is very important because it is ensured that it has passed the stages and procedures designed to provide protection to consumers. So that in the context of product transactions that occur in the field, no party benefits or is harmed and has applied the principle of balance and the principle of justice.
Downloads
Download data is not yet available.
References
AD, Evans. Halal Market Dynamic: An Analysis. London: Imarat Consultants, 2012.
Agama, Kementerian. Keputusan Menteri Agama RI Nomor 518 Tahun 2021 tentang Sertifikasi Halal MUI (2021).
Agus, Panji Adam. 'Kedudukan Sertifikasi Halal Dalam Sistem Hukum Nasional Sebagai Upaya Perlindungan Konsumen Dalam Hukum Islam'. Amwaluna: Jurnal Ekonomi Dan Keuangan Syariah 1, no. 1 (2017): 149–65.
Al-Fatih, Sholahuddin. 'Urgensi Sertifikasi Halal MUI Bagi Pengusaha Makanan Dan Minuman Di Kota Malang'. Jurnal Dedikasi Hukum 2, no. 1 (2022): 64–74.
Ali, Achmad. Menjelajahi Kajian Empiris Terhadap Hukum. Yarsif Watampone, 1998.
Anwar, Syamsul. Hukum Perjanjian Syariah: Studi Tentang Teori Akad Dalam Fikih Muamalat. Jakarta: PT Raja Grafindo Persada, 2007.
Apriyantono, Anton. 'Lingkaran Kasus Dendeng Dan Abon Babi'. NahiMunkar.Org (blog), November 2021. https://www.nahimunkar.org/lingkaran-kasus-dendeng-dan-abon-babi/.
Azizah, Mabarroh. 'Instrumen Labelisasi Dan Sertifikasi Halal Sebagai Perlindungan Hukum Terhadap Konsumen Muslim Dalam Wacana Hukum Ekonomi Islam Di Indonesia'. Al-'Adl 10, no. 2 (2017): 138–53. https://doi.org/10.31332/ALADL.V10I2.704.
———. 'Peran Negara Dalam Perlindungan Konsumen Muslim Di Indonesia'. Volksgeist: Jurnal Ilmu Hukum Dan Konstitusi 4, no. 2 (12 November 2021): 153–65.
Bahiej, Ahmad, Makhrus Munajat, and Diky Faqih Maulana. 'The Lifestyle and Halal Industry Methods with Local Culture: Study of Tourism and Halal Products in Nusa Tenggara Timur 2020'. Jurnal Ilmiah Al-Syir'ah 19, no. 1 (2021): 46–70.
BPN. 'Penduduk Menurut Wilayah Dan Agama Yang Dianut', 2010. https://sp2010.bps.go.id/index.php/site/tabel?tid=321.
Chairunnisyah, Sheilla. 'Peran Majelis Ulama Indonesia Dalam Menerbitkan Sertifikat Halal Pada Produk Makanan Dan Kosmetika'. EduTech: Jurnal Ilmu Pendidikan Dan Ilmu Sosial 3, no. 2 (2017).
Ditjen PEN/WRT/56/VII/2015 (2015).
Handoyo. 'Potensi Besar Dari Bisnis Halal'. Kontan (blog), September 2021. https://nasional.kontan.co.id/news/potensi-besar-dari-bisnis-halal.
Hariyanto, Hariyanto. 'Public Legal Awareness of the Fixed Object Waqf Paradigm Towards Progressive Waqf'. International Journal of Social Science and Religion (IJSSR), 4 July 2022, 149–58. https://doi.org/10.53639/ijssr.v3i3.69.
Juni, Sabaruddin. 'Aspek Hukum Perdata Pada Perlindungan Konsumen', 2003.
Muchsin, M. 'Perlindungan Dan Kepastian Hukum Bagi Investor Di Indonesia'. Universitas Sebelas Maret, 2003.
Novelino, Andry. 'Kemenag Belum Hukum Produsen Yang Tak Urus Sertifikat Halal'. CNN Indonesia (blog), 2019. https://www.cnnindonesia.com/ekonomi/20191016203043-92-440143/kemenag-belum-hukum-produsen-yang-tak-urus-sertifikat-halal.
Pelu, Muhammad Ibnu Elmi As. 'Label Halal: Antara Spiritualitas Bisnis Dan Komoditas Agama'. Malang: Madani, 2009.
Philipus, M Hadjon. Perlindungan Hukum Bagi Rakyat Indonesia. Surabaya: Bina Ilmu, 1987.
Prabowo, Sulistyo, and Azmawani Abd Rahman. 'Sertifikasi Halal Sektor Industri Pengolahan Hasil Pertanian', 34:57–70, 2016.
Purnomo, Dwi. 'Strategi Pengembangan Agroindustri Halal Dalam Mengantisipasi Bisnis Halal Global'. Institut Pertanian Bogor, 2011.
Ragil Ajiyanto. 'Polisi Ungkap Perdagangan Ayam Tiren Di Boyolali'. DetikNews (blog), 5 October 2021. https://news.detik.com/berita-jawa-tengah/d-4884557/polisi-ungkap-perdagangan-ayam-tiren-di-boyolali.
Reuters, Thomson. 'State of the Global Islamic Economy Report 2017/2018'. Dubai The Capital of Islamic Economy, 2018.
Revin, Irena, and Islamiyati Suradi. 'Perlindungan Hukum Bagi Konsumen Terhadap Adanya Pemalsuan Labelisasi Halal Pada Produk Pangan Impor'. Diponegoro Law Journal 6, no. 2 (2017): 1–14.
Sani, Abdullah. 'Pedagang Bakso Mekar Sukajadi Campur Daging Sapi Dengan Babi'. Merdeka.Com (blog), Oktober 2021. https://www.merdeka.com/peristiwa/pedagang-bakso-mekar-sukajadi-campur-daging-sapi-dengan-babi.html.
Shahbandeh, M. 'Top Five Global Muslim Consumer Food Expenditure 2017 By Country'. Statista (blog), June 2021. https://www.statista.com/statistics/737162/global-muslim-food-and-beverage-market/.
Soekanto, Soerjono. 'Kesadaran Hukum Dan Kepatuhan Hukum'. Jurnal Hukum & Pembangunan 7, no. 6 (1977): 462–70.
Sofyan, Hasan. Sertifikasi Halal Dalam Hukum Positif, Regulasi Dan Implementasinya Di Indonesia. Yogyakarta: Aswaja Press, 2014.
Suparto, Susilowati, D Djanurdi, Deviana Yuanitasari, and Agus Suwandono. 'Harmonisasi Dan Sinkronisasi Pengaturan Kelembagaan Sertifikasi Halal Terkait Perlindungan Konsumen Muslim Indonesia'. Mimbar Hukum-Fakultas Hukum Universitas Gadjah Mada 28, no. 3 (2016): 427–38.
Sutedi, Adrian. Tanggung Jawab Produk Dalam Hukum Perlindungan Konsumen. Jakarta: Ghalia Indonesia, 2008.
Tagel, DP. 'Kesadaran Hukum Masyarakat Pengguna Jalan Di Kota Denpasar (Road Users' Obedience in the City of Denpasar, in Indonesian)'. Master's Thesis, 2013.
Tarr, Anthony A. 'Consumer Protection Legislation and the Market Place'. Otago L. Rev. 5, no. 3 (1981): 397.
Triyanto, Witanti Astuti. 'Sertifikasi Jaminan Produk Halal Menurut Undang-Undang Nomor 33 Tahun 2014 (Perspektif Hukum Perlindungan Konsumen)'. Lex Administratum 5, no. 1 (2017).
Undang-Undang Republik Indonesia Nomor 33 Tahun 2014 Tentang Jaminan Produk Halal (2014).
Usman, Atang Hermawan. 'Kesadaran Hukum Masyarakat Dan Pemerintah Sebagai Faktor Tegaknya Negara Hukum Di Indonesia'. Jurnal Wawasan Yuridika 30, no. 1 (2015): 26–53.
Waharini, Faqiatul Mariya, and Anissa Hakim Purwantini. 'Model Pengembangan Industri Halal Food Di Indonesia'. Muqtasid 9, no. 1 (2018).
Wibowo, Dwi Edi, and Benny Diah Madusari. 'Pengaruh Labelisasi Halal Terhadap Keputusan Pembelian Oleh Konsumen Muslim Terhadap Produk Makanan Di Kota Pekalongan'. Indonesia Journal of Halal 1, no. 1 (2018): 73–80.
Wiradipraja, Endang Saefullah. Tanggungjawab Pengangkut Dalam Hukum Udara. Jakarta: Balai Pustaka, 1996.
Zuraya, Nidia. 'BPOM Temukan 42 Jajanan Anak Mengandung Zat Berbahaya'. Republika (blog), May 2021. https://www.republika.co.id/berita/n68k5m/bpom-temukan-42-jajanan-anak-mengandung-zat-berbahaya.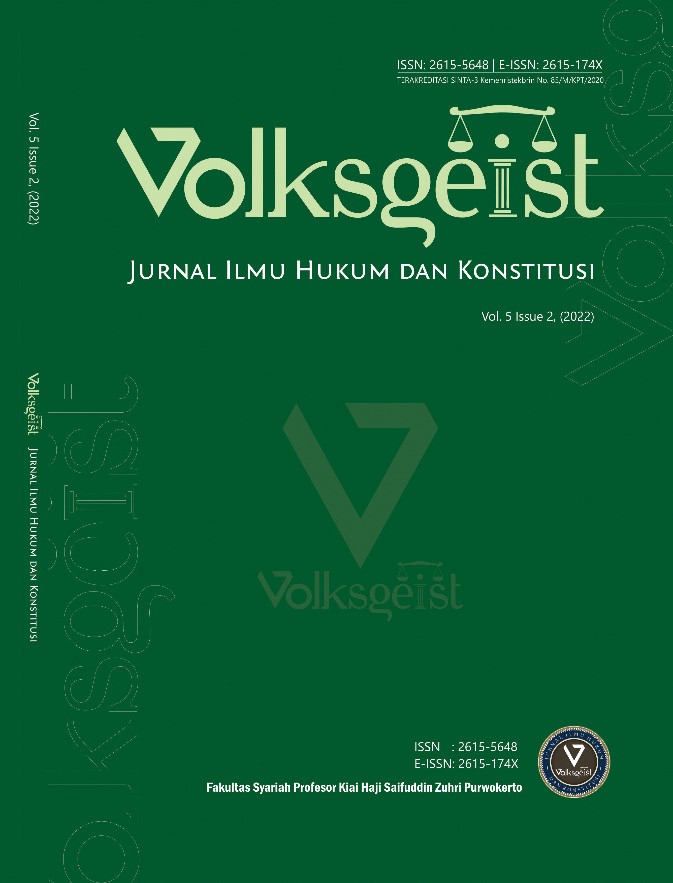 Downloads
How to Cite
Maulana, D. F., Makhrus, M., & Hasanah, H. (2022). The Urgency of MUI Halal Fatwa about Food, Beverage, Medicine and Cosmetic Products for the Consumer Protection. Volksgeist: Jurnal Ilmu Hukum Dan Konstitusi, 5(2), 199–214. https://doi.org/10.24090/volksgeist.v5i2.6421
License
Copyright (c) 2022 Diky Faqih Maulana, Makhrus Makhrus, Hamidatul Hasanah
This work is licensed under a Creative Commons Attribution-ShareAlike 4.0 International License.
Copyright Notice
Authors who publish with this journal agree to the following terms: Authors retain copyright and grant the journal right of first publication with the work simultaneously licensed under a Creative Commons Attribution-ShareAlike 4.0 International License that allows others to share the work with an acknowledgment of the work's authorship and initial publication in this journal.