Perlindungan Hukum Terhadap Informasi Iklan Yang Menyesatkan
Keywords:
Legal protection; misleading advertising; consumer protection.
Abstract
This study aims to examine the existence of misleading advertising information reviewed from the law perspective as well as the role of the government in providing legal protection to consumers. This study implemented conceptual and legal approaches. The results of the research show that advertisement is stated to be misleading if it violates Article 9 of The Consumer Protection (UUPK). As for the legal consequences, the advertisment's owners may be subject to administrative, criminal, civil, and additional penalties. Consumers who suffer from misleading advertising information receive preventive legal protection in the form of making legal rules that guarantee legal protection and supervision of customers. In addition, consumers also get repressive legal protection through the courts of the justice so that costumers can file claims to the court or through channels outside the court thant are managed by The Consumer Dispute Settlement Board (BPSK). Based on the research results, its concluded that forms of misleading advertisements are misleading, deceptive, omission, and puffery. Businesses that are dishonest in advertising their products will be subject to sanctions. The advertising legal protection is contained in the UUPK, KUHPer, and the 2020's Amendment of Indonesian Pariwara Ethics.
Downloads
Download data is not yet available.
References
Arief, M O H Zainol. "Kata Kunci : Perlindungan Konsumen Terhadap Iklan Sabun ." 6, no. April (2019): 39–46.
Azizah, Mabarroh, and Hariyanto Hariyanto. "Implementasi Etika Bisnis Islam Terhadap Konsep Green Economics." Supremasi Hukum: Jurnal Kajian Ilmu Hukum 10, no. 2 (December 31, 2021): 237–52. https://doi.org/10.14421/SH.V10I2.2392.
Bernada, Tetanoe. "UPAYA PERLINDUNGAN HUKUM PADA KONSUMEN DALAM TRANSAKSI E-COMMERCE UNTUK MENDUKUNG PERTUMBUHAN EKONOMI DIGITAL DI INDONESIA." Jurnal Hukum Dan Peradilan 6, no. 1 (2017). https://doi.org/10.25216/jhp.6.1.2017.1-24.
Dewan Periklanan Indonesia, Etika Pariwara Indonesia Amandemen 2020 (n.d.).
Erwinsyahbana, Tengku. "Penelitian Kualitatif Bidang Ilmu Hukum Dalam Persfektif Filsafat Konstruktivis." Borneo Law Review Journal 1 (2017).
Harianto, Dedi, and Asep Jamaludin, eds. Perlindungan Hukum Bagi Konsumen : Terhadap Periklanan Yang Menyesatkan ,,. Bogor: Ghalia Indonesia, 2010.
Herawati, Netty. "TANGGUNG JAWAB PELAKU USAHA ATAS IKLAN YANG MENYESATKAN." Perspektif 11, no. 4 (2006). https://doi.org/10.30742/perspektif.v11i4.391.
Mahadewi, Putri. "Perlindungan Hukum Konsumen Atas Tayangan Iklan Televisi Yang Menyesatka." Journal of Chemical Information and Modeling 53, no. 9 (1981): 1689–99.
Nola, Luthvi Febryka. "Upaya Pelindungan Hukum Secara Terpadu Bagi Tenaga Kerja Indonesia (Tki)." Negara Hukum 7, no. 1 (2016): 40.
Padrisan Jamba, Rizki Tri Anugrah Bhakti,. "Analisis Yuridis Perlindungan Konsumen Terhadap Informasi Iklan Yang Menyesatkan." Jurnal Cahaya Keadilan 5, no. 1 (2017): 48. https://doi.org/10.33884/jck.v5i1.911.
Paramita, I Gusti Ayu Indra Dewi Dyah Pradnya, and Desak Putu Dewi Kasih. "Perlindungan Hukum Terhadap Konsumen Terkait Iklan Yang Menyesatkan Ditinjau Berdasarkan Undang-Undang Perlindungan Konsumen Dan Kode Etik Periklanan Indonesia." Kertha Semaya 5, no. 2 (2017): 1–5.
Pasal 54 ayat (3) Undang-Undang Nomor 8 Tahun 1999 tentang Perlindungan Konsumen (n.d.).
Siambaton, Tulus, and Yosua Lorenzo Tarigan. "BENTUK PERLINDUNGAN HUKUM TERHADAP KONSUMEN AKIBAT IKLAN YANG MENYESATKAN PADA MEDIA CETAK." Visi Sosial Humaniora 1, no. 2 (2020). https://doi.org/10.51622/vsh.v1i2.83.
Sudjana, Sudjana -. "Tanggung Jawab Pelaku Usaha Terhadap Penayangan Iklan Niaga Yang Menyesatkan Konsumen." Dialogia Iuridica: Jurnal Hukum Bisnis Dan Investasi 12, no. 2 (2021): 1–21. https://doi.org/10.28932/di.v12i2.3488.
Widijowati, Dijan. "Peredaran Iklan Yang Menyesatkan Konsumen Dihubungkan Dengan Hukum Perlindungan Konsumen,Pers Dan Penyiaran." IUS CONSTITUTUM 1, no. 2 (2016).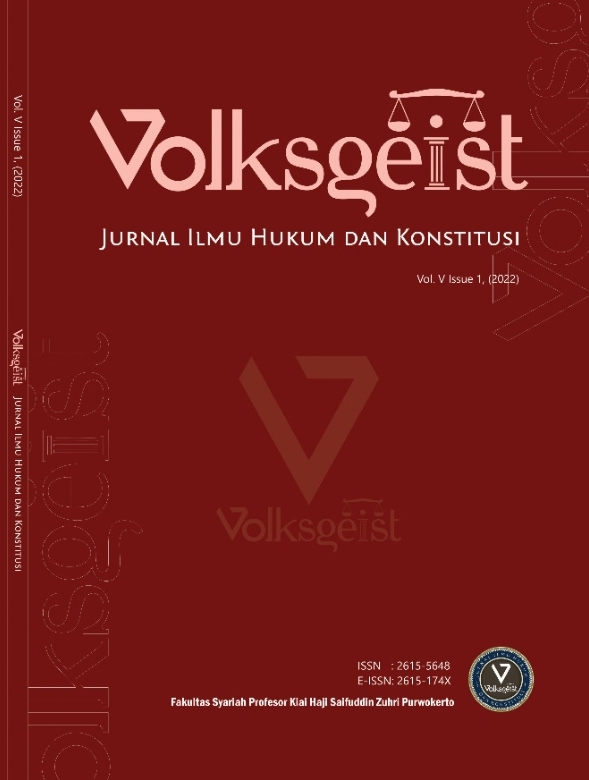 Downloads
How to Cite
Prabowo, W., Latifa, K. T., & Puspandari, R. Y. (2022). Perlindungan Hukum Terhadap Informasi Iklan Yang Menyesatkan. Volksgeist: Jurnal Ilmu Hukum Dan Konstitusi, 5(1), 81–96. https://doi.org/10.24090/volksgeist.v5i1.6184
License
Copyright Notice
Authors who publish with this journal agree to the following terms: Authors retain copyright and grant the journal right of first publication with the work simultaneously licensed under a Creative Commons Attribution-ShareAlike 4.0 International License that allows others to share the work with an acknowledgment of the work's authorship and initial publication in this journal.