Pertanggungjawaban Hukum Terhadap Tindakan Malpraktik Tenaga Medis di Rumah Sakit
Keywords:
Legal liability; malpractice acts; hospital.
Abstract
This article aims to find out the legal arrangements and liability related to malpractice acts in hospitals. The liability for criminal acts of malpractice is currently an important spotlight because the legal rules governing it are still vague. This is because the qualifications of malpractice acts are not clearly stated in the legal rules. These malpractice acts cannot be seen solely from a scientific point of view, but from a legal perspective too. Malpractice acts contain criminal and civil elements, this should be considered so that each party does not give their interpretations according to their respective knowledges. The research method used in this study is normative juridical by applying library research and conceptual approaches which will then be analyzed using Wetsen Rechtshitorische Interpretatie, grammatical interpretation, and systematic interpretation. Since the independence time until now, Indonesia has experienced three times of the Health Law enactment. The regulations related to medical malpractice in the Health Law state that, in the event that health workers are suspected of negligence in carrying out their profession, the negligence must be resolved first through mediation.
Downloads
Download data is not yet available.
References
Eriska Sitio Kurniati. "Hukum Pidana Dan Undang-Undang Praktek Kedokteran Dalam Penanganan Malpraktek." Jurnal Kertha Wicara 6, no. 2 (2017): 13.
Erwin Asmadi. "Rumusan Delik Dan Pemidanaan Bagi Tindak Pidana Pencemaran Nama Baik Di Media Sosial." De Lega Lata: Jurnal Ilmu Hukum 6, no. 1 (2021): 20.
Ferdinand Benhard. "Perlindungan Hukum Terhadap Korban Tindak Pidana Malpraktek Menurut UU No. 36 Tahun 2009." Jurnal Lex Administratum 5, no. 1 (2017): 14.
Fitriono, Riska Andi, Budi Setyanto, and Rehnalemken Ginting. "PENEGAKAN HUKUM MALPRAKTIK MELALUI PENDEKATAN MEDIASI PENAL." Yustisia Jurnal Hukum 5, no. 1 (April 1, 2016): 148–61. https://doi.org/10.20961/YUSTISIA.V5I1.8724.
Hariyanto, H. "OFFICIAL RESPONSIBILITY AND PERSONAL RESPONSIBILITY IN THE CONTEXT OF STATE FINANCIAL LOSS." Jurnal Dinamika Hukum 18, no. 1 (January 31, 2018): 103–8. https://doi.org/10.20884/1.JDH.2018.18.1.1861.
Heryanto, Bambang. "MALPRAKTIK DOKTER DALAM PERSPEKTIF HUKUM." Jurnal Dinamika Hukum 10, no. 2 (May 15, 2010): 183–91. https://doi.org/10.20884/1.JDH.2010.10.2.151.
I Gede Indra Diputra. "Pertanggungjawaban Pidana Terhadap Dokter Yang Melakukan Tindakan Malpraktek Dikaji Dari Kitab Undang-Undang Hukum Pidanaindonesia." Jurnal Kertha Negara 2, no. 5 (2014): 17.
Ismail Koto. "Cyber Crime According to the ITE Law." Jurnal IJRS 2, no. 2 (2021): 14.
———. "Kewenangan Jaksa Dalam Melakukan Penggabungan Perkara Korupsi Dan Money Laundering (Studi Kejaksaan Tinggi Sumatera Utara)." Jurnal Iuris Studia 2, no. 2 (2021): 18.
M. Nurdin. "Perlindungan Hukum Terhadap Pasien Atas Korban Malpraktek Kedokteran." Jurnal Hukum Samudera Keadilan 10, no. 1 (2015): 18.
Michael Eman Tendean. "Pertanggungjawaban Rumah Sakit Terhadap Tindakan Dokter Yang Melakukan Malpraktek." Jurnal Lex Et Societatis 7, no. 8 (2019): 18.
Nusye, KI Jayanti. Penyelesaian Hukum Dalam Malpraktik Kedokteran. Yogyakarta: Pustaka Yustisia, 2009.
Sartika Damopolii. "Tanggung Jawab Pidana Para Medis Terhadap Tindakan Malpraktek Menurut Undang Undang Nomor 36 Tahun 2009 Tentang Kesehatan." Jurnal Lex Crimen 6, no. 6 (2017): 15.
Sutopo. Standar Kualitas Medis. Jakarta: Mandar Maju, 2000.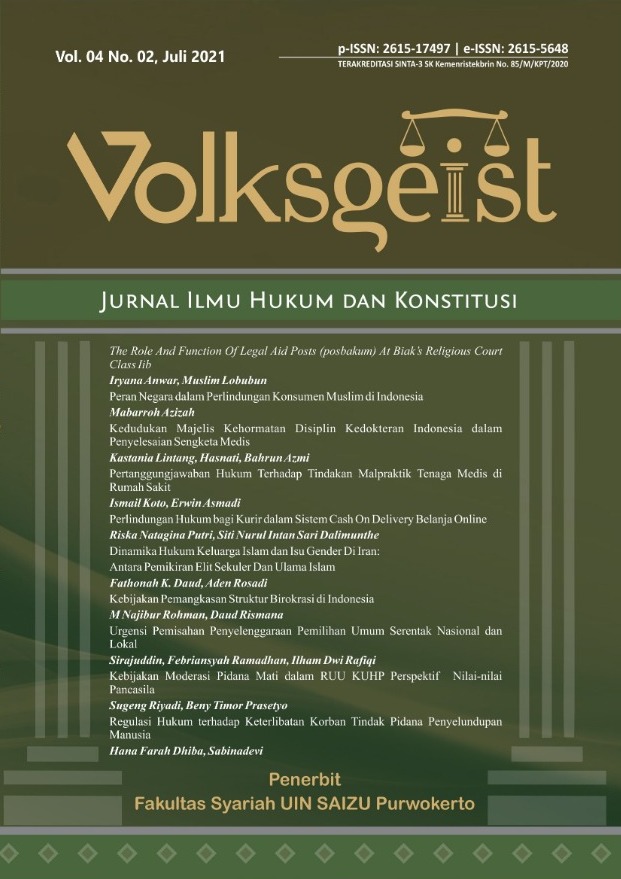 Downloads
How to Cite
Koto, I., & Asmadi, E. (2021). Pertanggungjawaban Hukum Terhadap Tindakan Malpraktik Tenaga Medis di Rumah Sakit. Volksgeist: Jurnal Ilmu Hukum Dan Konstitusi, 4(2), 181–192. https://doi.org/10.24090/volksgeist.v4i2.5372
License
Copyright Notice
Authors who publish with this journal agree to the following terms: Authors retain copyright and grant the journal right of first publication with the work simultaneously licensed under a Creative Commons Attribution-ShareAlike 4.0 International License that allows others to share the work with an acknowledgment of the work's authorship and initial publication in this journal.