Gender Equality in Islamic Inheritance Law: Rereading Muhammad Shahrur's Thought
Keywords:
Gender equality, Historical interpretation, Social construction, Theory of limit
Abstract
This article shows that the spirit of Islamic inheritance law is justice focusing on the sociological and gender roles of a man and woman in the accumulation of property on their gender role. The difference in the portion of legacy is not determined by sex. Shahrur's gender responsive-reading of inheritance law text cannot be separated from its historical root and is always discussed with the current social context. Legacy distribution is based on female heirs' position, while men's portion adapts to the existence of female heirs, besides the kinship factor. Shahrur's idea with the theory of hudud is offered to be an alternative model of Indonesian inheritance law reform.
Downloads
Download data is not yet available.
References
Abdullah, M. Amin. Studi Agama Normativitas Atau Historisitas? Yogyakarta: Pustaka Pelajar, 1996.
Abdullah, M Amin. "Dinamika Islam Kultural: Pemetaan Atas Wacana Islam Kontemporer (Bandung: Mizan, 2000)." Islamic Studies Di Perguruan Tinggi Pendekatan Integratif-Interkonektif, n.d.
al-Dāruquthni, Abu Hasan. Sunan Al-Dāruquthni. 4th ed. Beirut: Dar al-Ma'rifat, 1966.
Al-Lahim, Abdul Karim ibn Muhammad. Al-Faraidh. Mesir: Wizarat al-Syu'un al-Islamiyati wa al-Auqaf wa al-Da'wah wa al-Irsyad, 1999.
Anshori, Abdul Ghofur. Filsafat Hukum Kewarisan Islam. Yogyakarta: UII Press, 2015.
Ash-Shiddiqy, Hasbi. Falsafah Hukum Islam. Jakarta: Bulan Bintang, 1993.
Duderija, Adis. "Islam and Gender in the Thought of a Critical-Progressive Muslim Scholar-Activist: Ziba Mir-Hosseini." Islam and Christian–Muslim Relations 25, no. 4 (2014): 433–49.
Faiz, Muhammad Fauzinuddin. "Teori Hermeneutika Al-Qur'an Nashr Hamid Abu Zayddan Aplikasinya Terhadap Wacana Gender Dalam Studi Hukum Islam Kontemporer." Jurnal Al-Ahwal 7, no. 1 (2015).
Mahmasani, Subkhi. Filsafat Hukum Islam. Bandung: PT Al-Ma'arif, 1976.
Muhammad, Husein. "Tafsir Gender Dalam Pemikiran Islam Kontemporer." Dalam Pemikiran Islam Kontemporer Di Indonesia, Adnan Mahmud (Ed.). Yogyakarta: Pustaka Pelajar, 2005.
Muhammad, K H Husein. Perempuan, Islam, Dan Negara. IRCISOD, 2022.
Muqoyyidin, Andik Wahyun. "Wacana Kesetaraan Gender: Pemikiran Islam Kontemporer Tentang Gerakan Feminisme Islam." Al-Ulum 13, no. 2 (2013): 490–511.
Ridwan, Ridwan. "Menggagas Fikih Tasamuh Di Tengah Masyarakat Multikultural." Al-Manahij: Jurnal Kajian Hukum Islam 3, no. 2 SE-ARTICLES (December 18, 2009): 185–204. https://doi.org/10.24090/mnh.v3i2.3673.
Rosyada, Yassirly Amrona. "Poligami Dan Keadilan Dalam Pandangan Muhammad Syahrur: Studi Rekonstruksi Pemikiran." Profetika: Jurnal Studi Islam 18, no. 2 (2019): 164–75.
Sadzali, Munawwir. Islam Realitas Baru Dan Orientasi Masa Depan. Jakarta: UI Press, 1998.
Shahrur, Muhammad. Dirasat Islamiyah Mu'ashirah: Nahwa Ushul Jadidah Li Fiqh Al-Islamy. Mesir: Dar al-Kutub al-'Ilmiyah, 2002.
Syamsuddin, Sahiron. "Metodologi Penelitian Living Qur'an & Hadis." Yogyakarta: Sukses Offset, 2007.
Syamsuddin, Sahiron, and Burhanudin Dzikri. "Metodologi Fiqih Islam Kontemporer." Yogyakarta: ELSAQ, 2004.
Syarifudin, Amir. "Ushul Fiqh Metode Mengkaji Dan Memahami Hukum Islam Secara Komprehensif." Jakarta: Dzikrul Hakim, 2004.
Umar, Nasaruddin. Arguments for Gender Equality: A Qur'anic Perspective. Jakarta: Puslitbang Lektur dan Khasanah Keagamaan, Badan Litbang dan Diklat, 2014.
———. "Metode Penelitian Berperspektif Jender Tentang Literature Islam." Dalam Jurnal Al Jami'ah, no. 64 (1999).
Umar, Nasaruddin, and Direktur Jenderal Bimbingan Masyarakat Islam. "Hukum Keluarga Kontemporer Di Negara-Negara Muslim." In Dalam Makalah Seminar Nasional Hukum Materiil Peradilan Agama Antara Cita, Realitas Dan Harapan, Hotel Red Top Jakarta, Vol. 19, 2010.
Yamani, A. Zaki. Al-Syari'ah Al-Khalidah Wa Musykilat Al-'Ashr. Edited by Mahyuddin Syaff. Bandung: Al-Ma'arif, 1990.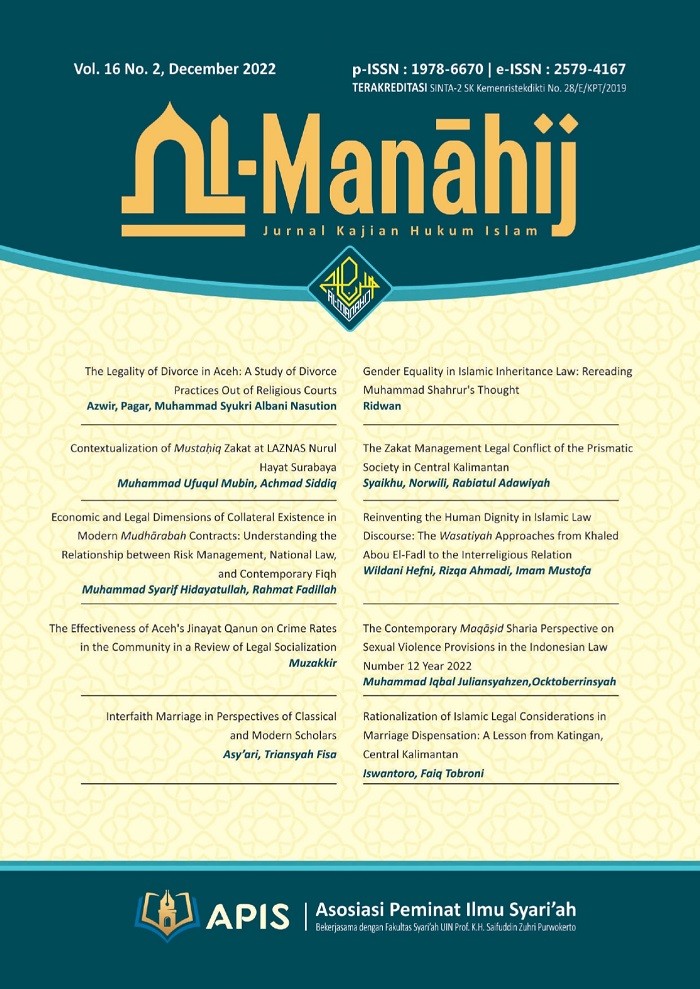 Downloads
How to Cite
Ridwan. (2022). Gender Equality in Islamic Inheritance Law: Rereading Muhammad Shahrur's Thought. Al-Manahij: Jurnal Kajian Hukum Islam, 16(2), 181–192. https://doi.org/10.24090/mnh.v16i2.6916
License
Copyright (c) 2022 Ridwan
This work is licensed under a Creative Commons Attribution-ShareAlike 4.0 International License.
Authors who publish with this journal agree to the following terms:
Authors retain copyright and grant the journal right of first publication with the work simultaneously licensed under a Creative Commons Attribution License that allows others to share the work with an acknowledgement of the work's authorship and initial publication in this journal.
Authors are able to enter into separate, additional contractual arrangements for the non-exclusive distribution of the journal's published version of the work (e.g., post it to an institutional repository or publish it in a book), with an acknowledgement of its initial publication in this journal.
Authors are permitted and encouraged to post their work online (e.g., in institutional repositories or on their website) prior to and during the submission process, as it can lead to productive exchanges, as well as earlier and greater citation of published work (See The Effect of Open Access).