Contextualization of Mustaḥiq Zakat at LAZNAS Nurul Hayat Surabaya
Keywords:
Contextualization, Mustahiq, Zakat, Nurul Hayat Surabaya
Abstract
This paper discusses the contextualization of mustahiq zakat seen from the changes in its meanings which have expanded to riqâb, ghârim, sabîlillâh and ibn al-sabîl, while other meaning of mustaḥiq is relatively static such as faqîr, miskîn, 'âmil, mu' allaf. Practically, the concept of mustahiq zakat is contextualized by various zakat managers, one of which is Laznas (National Amil Zakat Institute) Nurul Hayat Surabaya. Mustaḥiq zakat which refers to the poor and âmil is contextualized according to the general meaning in classical and contemporary fiqh. While the mustahiq zakat of mu'allaf is contextualized to be limited to people who have converted to Islam, while the concept of mu'allaf in fiqh includes people who have not converted to Islam but have social potential and strength. The mustahiq zakat of riqâb, ghârim, sabîlillâh and ibn as-sabîl are contextualized widely beyond the meaning in fiqh generally. The contextualization of mustahiq zakat by Laznas Nurul Hayat shows that the benefit of humans (maṣâliḥ al-'ibâd) is the main consideration in zakat management, in addition to the contextualization of mustaḥiq zakat is proof that changes in situations, conditions, environment and socio-culture influence the changes in Islamic law. The conclusion in this paper uses the theory of change in Islamic law and uses a normative approach which aim to reveal the truth values ​​in the practice of zakat in society which can be actualized in the future.
Downloads
Download data is not yet available.
References
Abidin, Zaenal. "Manifestasi Dan Latensi Lembaga Filantropi Islam Dalam Praktik Pemberdayaan Masyarakat: Suatu Studi Di Rumah Zakat Kota Malang." Jurnal Salam 15, no. 2 (2012).
Al-Faizin, Abdul Wahid, Taqiyah Dinda Insani, and Tika Widiastuti. "Zakat as an Obligatory System and Its Implications for Social Psychology of Society (Social Tafsīr of Sūrah Al-Tawbah: 103)." International Journal of Zakat 2, no. 2 (2017): 43–53.
Al-Hanafi, Ibnu Hamzah Al-Husaini. "Ad-Damsyiqi." Asbabul Wurud 2 (2008).
Al-Jauziyyah, Ibn Qayyim. "I'lâm Al-Muwaqqi'în 'an Rabb Al-'Âlamîn." Mesir: Dâr al-Jaîl, n.d.
Al-Nadawi, Ali Ahmad. "Al-Qawaid Al-Fiqhiyyah: Mafhumuha." Nasyatuha, Tathawwuruha, Dirasat Mualifatiha, Adillatuha, Muhimmatuha, Tathbiqatuha, Dar Al-Qalam, Damaskus, 1994.
Al-Razi, Muhammad. "Tafsir Al-Fakhr Al-Razi." Juz V, Dar Al-Fikr Li Al-Thiba'wa Al-Nasyr Wa Al-Tanz, t. Th, 1985.
Allâh, Uŝmân Husein Abd. "Az-Zakât Al-Ḍamâm Al-Ijtimâ'î Al-Islâmî." Mesir; Dâr al-Wafâ, 1989.
Amin, Ma'ruf. "Himpunan Fatwa MUI Sejak Tahun 1975." Jakarta: Erlangga, 2011.
An-Nawawî. "Rauḍah Al-Ṭâlibîn." Beirut: al-Maktab al-Islâmî, 1991.
Asy-Syâṭibî, Abu Ishaq. "Al-Muwâfaqât Fî Uṣūl Asy-Syarî'ah." Beirut: Dâr al-Kutub al-Ilmiyyah, n.d.
Az-Zuhaili, Wahbah. Fiqih Islam wa adillatuhu, terj, Abdul Hayyie al-Kattani, dkk. Jakarta (ID): Gema Insani § (2011).
Azizah, Aviva Nur. "PENGELOLAAN ZAKAT PROFESI KARYAWAN PT. PAMA PERSADA NUSANTARA DISTRIK KALTIM PRIMA COAL SANGATTA KUTAI TIMUR." At-Tawazun, Journal of Islamic Economics and Law 9, no. 02 (2021): 76–87.
Bamualim, Chaider S, and Irfan Abu Bakar. Revitalisasi Filantropi Islam: Studi Kasus Lembaga Zakat Dan Wakaf Di Indonesia. Pusat Bahasa dan Budaya UIN Syarif Hidayatullah, 2005.
Departemen Agama, R I. Al-Qur'an dan terjemahan, Jakarta: PT Syaamil Cipta Media § (2005).
Dikuraisyin, Basar. "Balanced Scorecard Analysis of Amil Kompetensi Competence as a Model Rule for the Development of Zakat Institutions Resources (Study at LAZ Rumah Zakat Surabaya, East Java):(Analisis Balanced Scorecard Terhadap Kompetensi Amil Sebagai Rule Model Pengemban." El-Qist: Journal of Islamic Economics and Business (JIEB) 11, no. 2 (2021): 150–64.
Fahlefi, Rizal. "Perkembangan Pengumpulan Zakat Pada Baznas Kabupaten Tanah Datar Periode 2010 SD 2014," 2021.
Fauzia, Amelia. Filantropi Islam, Sejarah Dan Kontestasi Masyarakat Sipil Dan Negara Di Indonesia, 2016.
Hamzah, Hamzah. "Empowerment of Mustaḥiq Zakat Model Towards Business Independency." International Journal of Nusantara Islam 5, no. 1 (2017): 85–96.
Iskandar, Azwar, Bayu Taufiq Possumah, Khaerul Aqbar, and Akhmad Hanafi Dain Yunta. "Islamic Philanthropy and Poverty Reduction in Indonesia: The Role of Integrated Islamic Social and Commercial Finance Institutions." AL-IHKAM: Jurnal Hukum & Pranata Sosial 16, no. 2 (2021): 274–301.
Koswara, Engkos. "Zakat Management Strategy in Poverty Alleviation: Study of Zakat Collecting Institutions in Indonesia." International Journal of Science and Society 1, no. 2 (2019): 122–33.
Laila, Nur Quma, and Irwan Abdullah. "Questioning Fiqh Muamalah of Toleration: Religious Spatial Segregation in the Urban Area of Yogyakarta." AL-IHKAM: Jurnal Hukum & Pranata Sosial 17, no. 1 (2022): 28–59.
Latief, Hilman. Melayani Umat. Gramedia Pustaka Utama, 2013.
Mahfudh, KHMA Sahal. Nuansa Fiqh Sosial. LKIS Pelangi Aksara, 2003.
Mas' udi, Masdar Farid. Pajak Itu Zakat: Uang Allah Untuk Kemaslahatan Rakyat. Mizan Pustaka, 2010.
Mughniyah, Muhammad Jawad. Fiqih Lima Mazhab: Ja 'fari, Hanafi, Maliki, Syafi 'i, Hambali (Gold Edition). Shaf, 2015.
Mushthafa, Mushthafa. "Mustahiq Zakat Fitrah Dan Relevansinya Dengan Kewajiban Menunaikannya Bagi Setiap Muslim (Telaah Pendapat Imam Malik w. 178 H)." JURIS (Jurnal Ilmiah Syariah) 18, no. 1 (2019): 1–10.
Noeralamsyah, Zenno, Didin Hafidhuddin, and Irfan Beik. "Analisis Pengelolaan Zakat Di Indonesia Berdasarkan Undang-Undang Nomor 23 Tahun 2011." Kasaba: Jurnal Ekonomi Islam 10, no. 2 (2019): 151–75.
Nonet, Philippe, and Philip Selznick. Hukum Responsif: Pilihan Di Masa Transisi. Perkumpulan untuk Pembaharuan Hukum Berbasis Masyarakat dan Ekologis (HuMa), 2003.
Qudamah, Ibn. Asy-Syarhul Kabiir. Beirut: Darul Kitab Al-Arobi, n.d.
Rahman, Idrus Andy. "Peran Zakat Produktif Dalam Meningkatkan Pendapatan Mustahik Di El-Zawa UIN Maulana Malik Ibrahim Malang." Al-Mansyur: Jurnal Ekonomi Dan Bisnis Syariah 1, no. 1 (2021): 45–58.
Rodin, Dede. "Rekonstruksi Konsep Fakir Dan Miskin Sebagai Mustahik Zakat." Ijtihad: Jurnal Wacana Hukum Islam Dan Kemanusiaan 15, no. 1 (2015): 137–58.
Rosadi, Aden. "Kontekstualisasi Pengelolaan Zakat Untuk Umat." Asy-Syari'ah 17, no. 2 (2015): 1–8.
Rosadi, Aden, and Mohamad Anton Athoillah. "Distribusi Zakat Di Indonesia: Antara Sentralisasi Dan Desentralisasi." Ijtihad: Jurnal Wacana Hukum Islam Dan Kemanusiaan 15, no. 2 (2015): 237–56.
Saadah, Mazroatus, and Uswatun Hasanah. "The Common Goals of BAZNAS'Zakat and Sustainable Development Goals (SDGs) According to Maqasid Al Sharia Perspective." Al Ihkam Jurnal Hukum Dan Pranata Sosial 16, no. 2 (2021): 302–26.
Sabiq, Sayyid. Fiqih Sunnah Jilid 1. Republika Penerbit, 2017.
Sahroni, Oni, Agus Setiawan, Adi Setiawan, and Mohammmad Suharsono. "Fikih Zakat Kontemporer," 2018.
Saidurrahman, Saidurrahman. "The Politics of Zakat Management In Indonesia: The Tension Between BAZ and LAZ." Journal of Indonesian Islam 7, no. 2 (2013): 366–82.
Santoso, Iman, Didin Hafidhuddin, and Hendri Tanjung. "Analisis Fiqh Zakat Harta Kontemporer Dengan Metode Qiyas." Kasaba: Jurnal Ekonomi Islam 11, no. 2 (2019): 151–75.
Sulaeman, Sulaeman, and Sri Yayu Ninglasari. "Analyzing the Behavioral Intention Factors in Using Zakat-Based Crowdfunding Platform in Indonesia." International Journal of Zakat 5, no. 3 (2020): 1–19.
Yahya, Imam. "Zakat Management in Indonesia: A Legal Political Perspective." Al-Ahkam 30, no. 2 (2020): 195–214.
Yūsuf Qarḍâwi (al). "Dirâsah Fi Fiqh Maqâṣid As-Syar'iyyah." Kairo: Dâr al-Syuruq, 2008.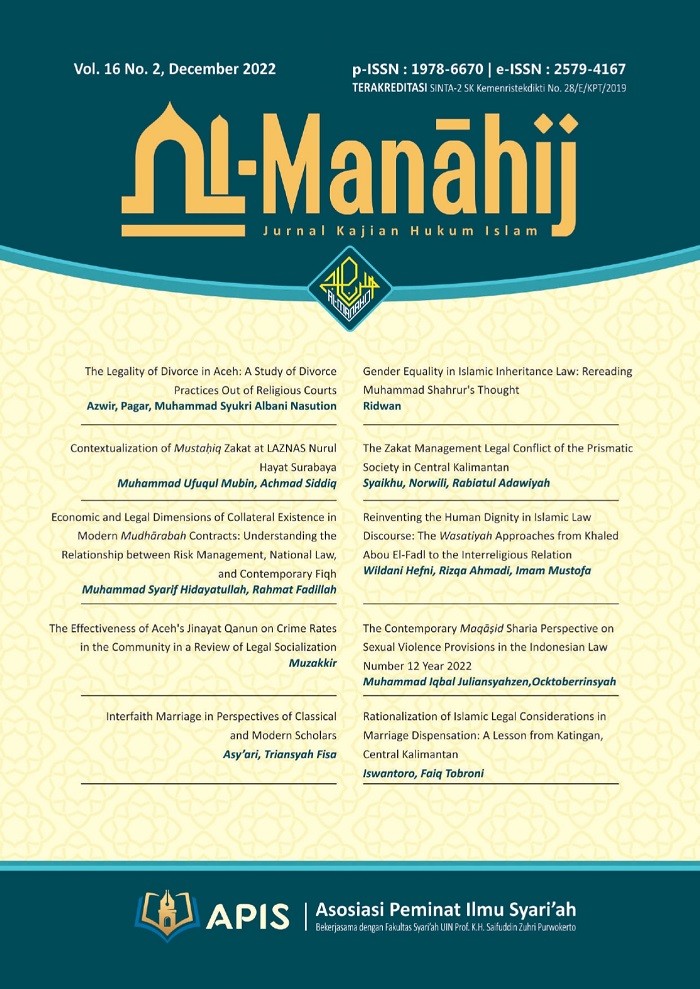 Downloads
How to Cite
Mubin, M. U., & Siddiq, A. (2022). Contextualization of Mustaḥiq Zakat at LAZNAS Nurul Hayat Surabaya. Al-Manahij: Jurnal Kajian Hukum Islam, 16(2), 193–208. https://doi.org/10.24090/mnh.v16i2.6915
License
Copyright (c) 2022 Muhammad Ufuqul Mubin, Achmad Siddiq
This work is licensed under a Creative Commons Attribution-ShareAlike 4.0 International License.
Authors who publish with this journal agree to the following terms:
Authors retain copyright and grant the journal right of first publication with the work simultaneously licensed under a Creative Commons Attribution License that allows others to share the work with an acknowledgement of the work's authorship and initial publication in this journal.
Authors are able to enter into separate, additional contractual arrangements for the non-exclusive distribution of the journal's published version of the work (e.g., post it to an institutional repository or publish it in a book), with an acknowledgement of its initial publication in this journal.
Authors are permitted and encouraged to post their work online (e.g., in institutional repositories or on their website) prior to and during the submission process, as it can lead to productive exchanges, as well as earlier and greater citation of published work (See The Effect of Open Access).