The Zakat Management Legal Conflict of the Prismatic Society in Central Kalimantan
Keywords:
Legal Conflict, Prismatic Society, Zakat Management
Abstract
The Government established the National Amil Zakat Agency to manage zakat, but the prismatic society tends to be traditionalists in Kapuas Regency are reluctant to pay zakat through it. The study aims to determine the legal conflict in the zakat management of the prismatic society and to find out the causes of the prismatic society's reluctance to pay zakat through the zakat institution. It is descriptive qualitative with an empirical and legislative approach. The results indicate that the legal conflict between the law of zakat management and the prismatic law that applies in society makes the rules overlap and the zakat management for public interests became less optimal. Meanwhile, the causes of why they are reluctant to pay zakat through BAZNAS are the feeling better to give zakat directly to mustahiq, the lack of public understanding of the zakat management benefits by the institution, and the lack of public trust in the institution. There is a need for adjustments to zakat management regulations and providing comprehension that the society and zakat managers must have the awareness to optimize zakat, which is useful for the development of the country and Muslims.
Downloads
Download data is not yet available.
References
Abdullah, M. Ma'ruf. Hukum Keuangan Syariah pada Lembaga Keuangan Bank dan Non Bank. Yogyakarta: Aswaja Pressindo, 2016.
Abdurrahman, Jalaluddin. Lima Kaidah Pokok dalam Fikih Mazdhab Syafi'i. Diterjemahkan oleh Asywadie Syukur. Surabaya: Bina Ilmu, 1986.
Abubakar, Lastuti. "Implementasi Prinsip Kehati-Hatian Melalui Kewajiban Penyusunan Dan Pelaksanaan Kebijakan Perkreditan Atau Pembiayaan Bank." Rechtidee 13, no. 1 (29 Juni 2018): 62–81. https://doi.org/10.21107/ri.v13i1.4032.
Albadri, Abdul Aziz Munawar. "Risk Analysis Of Financing Musyarakah Sharia Financial Institutions." Munic Personal Repec Archive (MPRA) Paper, no. 88036 (2018).
Almahmudi, Nufi Mu'tamar. "Analisis Implementasi Pembiayaan Mudharabah dalam Perkembangan Hukum Ekonomi Syariah di Indonesia." Al-Huquq: Journal of Indonesian Islamic Economic Law 2, no. 2 (2020): 208–30.
Andiko, Toha, Suansar Khatib, dan Romi Adetio Setiawan. Maqashid Syariah dalam Ekonomi Islam. Yogyakarta: Samudera Biro, 2018.
Antonio, Muhammad Syafi'i. Bank Syariah: dari teori ke praktik. Jakarta: Gema Insani, 2009.
Azhari, Fathurrahman. Qawaid Fiqhiyyah Muamalah. Banjarmasin: Lembaga Pengembangan Kualitas Umat, 2014.
Dâraynî, Fathi ad. al-Minhâj al-Ushûliyyah fî Ijtihâd bî ar-Ra'yi fî at-Tasyrî'. Damaskus: Dâr al-Kutub al-Hadîts, 1975.
Djamil, Fathurrahman. Filsafat Hukum Islam. Jakarta: Logos Wacana Ilmu, 1997.
Djazuli, A. Kaidah-Kaidah Fikih: Kaidah-Kaidah Hukum Islam dalam Masalah-Masalah yang Praktis. Jakarta: Kencana, 2006.
Fitriani, Ifa Latifa. "Jaminan Dan Agunan Dalam Pembiayaan Bank Syariah Dan Kredit Bank Konvensional." Jurnal Hukum & Pembangunan 47, no. 1 (31 Maret 2017): 134–49. https://doi.org/10.21143/jhp.vol47.no1.138.
Ghoni, Abdul, Ridan Muhtadi, dan Moh Fudholi. "The Agricultural Cooperation Contract System And Government Authority On The Wage Mechanism From An Islamic Perspective." Ulumuna: Jurnal Studi Keislaman 6, no. 2 (23 November 2020): 236–52.
Ghuzzî, Abû al Hârits Muhammad Shidqî bin Ahmad al Burnû al. Al-Wajîz fî Îdhâh Qawâ'id al-Fiqh al-Kulliyyah. Beirut: Muassasah ar-Risâlah, 1996.
Hafidah, Noor. Hukum Jaminan Syariah & implementasinya dalam perbankan syariah di indonesia. Yogyakarta: UII Press, 2017.
Harun, Nasron. Ushul Fiqh 1. Jakarta: Logos, 1996.
Hidayatullah, Muhammad Syarif. "Implementasi Akad Berpola Kerja Sama Dalam Produk Keuangan Di Bank Syariah (Kajian Mudharabah Dan Musyarakah Dalam Hukum Ekonomi Syariah)." Jurnal Hadratul Madaniyah 7, no. 1 (2020): 34–41.
———. Perbankan Syariah: Pengenalan Fundamental dan Pengembangan Kontemporer. Banjarbaru: Dreamedia, 2017.
Hulam, Taufiqul. "Jaminan dalam transaksi akad Mudharabah pada perbankan syariah." Mimbar Hukum-Fakultas Hukum Universitas Gadjah Mada 22, no. 3 (2010): 520–33.
Ikatan Bankir Indonesia. Mengelola Bisnis Pembiayaan Bank Syariah. Jakarta: Gramedia Pustaka Utama, 2015.
Jaizânî, Muhammad bin Husain bin Hasan al. Ma'âlim Ushûl al-Fiqh 'Ind Ahl as-Sunnah wa al-Jamâ'ah. Mesir: Dâr Ibn al-Jauzî, 1427.
Jauziyyah, Muhammad bin Abû Bakr bin Qayyim al. I'lâm al-Muwaqqi'în 'an Rabb al-'âlamîn. Vol. 3. Kairo: Maktabah al-Kulliyât al-Azhariyah, 1968.
Kahf, Monzer. Tanya Jawab Keuangan dan Bisnis Kontemporer dalam Tinjauan Syariah. Diterjemahkan oleh Nur Cholis. Solo: Aqwam, 2010.
Kamali, Mohammad Hashim. Membumikan Syariah: Pergulatan Mengaktualkan Islam. Diterjemahkan oleh Miki Salman. Jakarta: Mizan Publika, 2008.
Karim, Adiwarman A. Bank Islam: Analisis Fiqih dan Keuangan. Jakarta: RajaGrafindo Persada, 2008.
———. Islamic banking: Fiqh and financial analysis. Rajagrafindo Persada: Karim Business Consulting, 2005.
Mufid, Mohammad. Ushul Fiqh Ekonomi dan Keuangan Kontemporer: Dari Teori Ke Aplikasi. Jakarta: Kencana, 2016.
Ndaru, Tangguh Prima. "Penerapan Prinsip Kehati-Hatian Dalam Perjanjian Kredit Bank." Binamulia Hukum 6, no. 2 (2017): 161–74. https://doi.org/10.37893/jbh.v6i2.80.
Pakpahan, Elvira Fitriyani. "Legal Protection Against Depositors' Customers With Mudharabah Contract On Islamic Banks." Jurnal Pembaharuan Hukum 6, no. 1 (13 Maret 2019): 45–53. https://doi.org/10.26532/jph.v6i1.4673.
Pertiwi, Yulianti Indah, dan Tubagus Rifqy Thantawi. "Analisis Perbandingan Ex-Ante Screening Dan Ex-Post Monitoring Dalam Pengelolaan Risiko." NISBAH: Jurnal Perbanka Syariah 1, no. 2 (1 Desember 2015): 114–31. https://doi.org/10.30997/jn.v1i2.222.
Purnamasari, Irma Devita. Kiat-kita Cerdas, mudah, dan Bijak Memahami Masalah Hukum Jaminan Perbankan. Bandung: Mizan Pustaka, 2014.
Rafidah, Rafidah. "Alternatif Solusi Atas Problematika Pembiayaan Mudharabah." JURNAL SYARIKAH : JURNAL EKONOMI ISLAM 3, no. 1 (21 Juni 2017): 391–402. https://doi.org/10.30997/jsei.v3i1.724.
Rivai, Veithzal, dan Andria Permata Veithzal. Islamic Financial Manaement: Teori, Konsep dan Aplikasi Panduan Praktis untuk Lembaga Keuangan, Nasabah, Praktisi, dan Mahasiswa. Jakarta: RajaGrafindo Persada, 2008.
Sa'adah. "Jaminan Pembiayaan Mudharabah Dalam Perspektif Maslahat." At-Taradhi: Jurnal Studi Ekonomi 4, no. 1 (28 Oktober 2013). https://doi.org/10.18592/taradhi.v4i1.90.
Sahban, Sahban. "Esensi Akad Mudharabah Dan Musyarakah Pada Perbankan Syariah Dalam Mewujudkan Keadilan Ekonomi." Al-Ishlah: Jurnal Ilmiah Hukum 20, no. 2 (1 November 2017): 38–49.
Sahroni, Oni. Fikih Muamalah Kontemporer: Membahas Permasalahan Sosial dan Ekonomi Kekinian. Vol. 3. Jakarta: Republika Penerbit, 2020.
Salim, Moh. Nur. Fikih Realistis: Kajian Tentang Hubungan antara Fikih dengan Realitas Sosial pada Masa Lalu dan Masa Kini. Jakarta: HatinuranikuPRESS, 2009.
Sapuan, Noraina Mazuin. "An evolution of Mudarabah contract: a viewpoint from classical and contemporary Islamic scholars." Procedia Economics and Finance 35 (2016): 349–58.
Sengkey, Yosua. "Kedudukan Bank Sebagai Pemegang Jaminan Kebendaan Terhadap Adanya Penangguhan Eksekusi Objek Jaminan." Lex Privatum 3, no. 4 (2015): 5–12.
Sjahdeini, Sutan Remi. Perbankan Syariah: Produk-produk dan Aspek-aspek Hukumnya. Jakarta: Kencana Prenada Media, 2014.
Surahman, Maman, dan Nurrohman Nurrohman. "Analysis of Maqâshid Al-Syarȋ'ah On The Application Of The Collateral In The Mudhȃrabah Contract In Sharia Financial Institutions." Amwaluna: Jurnal Ekonomi dan Keuangan Syariah 4, no. 2 (31 Juli 2020): 276–87. https://doi.org/10.29313/amwaluna.v4i2.5588.
Ulfa, Ulfa Hidayati. "Agriculture Sharia Contract Basis." Bilancia: Jurnal Studi Ilmu Syariah Dan Hukum 15, no. 2 (27 Desember 2021): 139–58. https://doi.org/10.24239/blc.v15i2.779.
Usman, Iskandar. Istihsan dan Pembaharuan Hukum Islam. Jakarta: RajaGrafindo Persada, 1994.
Usman, Muhlish. Kaidah-kaidah Ushuliyah dan Fiqhiyah. Jakarta: RajaGrafindo Persada, 1997.
Wibisono, Yusuf. "Analysis of Implementation of Mudharabah And Wadiah Contracts." Assets : Jurnal Ilmiah Ilmu Akuntansi, Keuangan Dan Pajak 5, no. 1 (31 Januari 2021): 9–16. https://doi.org/10.30741/assets.v5i1.677.
Zarqâ, Ahmad bin asy Syaikh Muhammad az. Syarh al-Qawâ'id Fiqhiyyah. Damaskus: Dâr al-Qalam, 1989.
Zuhailî, Muhammad Musthafâ az. al-Qawâ'id al-Fiqhiyyah wa Tathbîqâtihâ fî al-Madzâhib al-Arba'ah. Vol. 1. Damaskus: Dâr al-Fikr, 2006.
Zuhailî, Wahbah az. al-Fiqh al-Islâmî wa Adillatuh. Vol. 1. Damaskus: Dâr al-Fikr, 1985.
———. al-Wajîz fî Ushûl al-Fiqh. Damaskus: Dâr al-Fikr, 1999.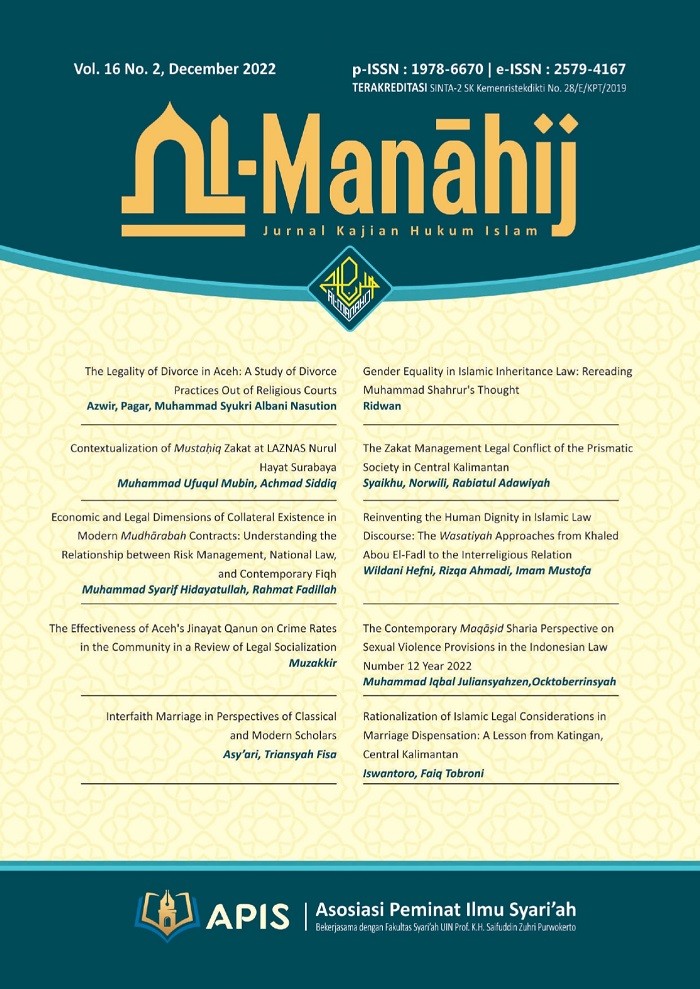 Downloads
How to Cite
Syaikhu, S., Norwili, N., & Adawiyah, R. (2022). The Zakat Management Legal Conflict of the Prismatic Society in Central Kalimantan . Al-Manahij: Jurnal Kajian Hukum Islam, 16(2), 209–222. https://doi.org/10.24090/mnh.v16i2.6014
License
Copyright (c) 2022 Syaikhu Syaikhu, Norwili Norwili, Rabiatul Adawiyah
This work is licensed under a Creative Commons Attribution-ShareAlike 4.0 International License.
Authors who publish with this journal agree to the following terms:
Authors retain copyright and grant the journal right of first publication with the work simultaneously licensed under a Creative Commons Attribution License that allows others to share the work with an acknowledgement of the work's authorship and initial publication in this journal.
Authors are able to enter into separate, additional contractual arrangements for the non-exclusive distribution of the journal's published version of the work (e.g., post it to an institutional repository or publish it in a book), with an acknowledgement of its initial publication in this journal.
Authors are permitted and encouraged to post their work online (e.g., in institutional repositories or on their website) prior to and during the submission process, as it can lead to productive exchanges, as well as earlier and greater citation of published work (See The Effect of Open Access).