Urgensi Fatwa DSN-MUI Mengenai Manajemen Risiko Pembiayaan Berbasis Syariah
Keywords:
DSN-MUI Fatwa, Risk Management, Sharia Financing
Abstract
Risk management at Islamic financial institutions is still implementing bank Indonesia (BI) and Financial Services Authority (OJK) policies which previously applied the same to conventional financial institutions. The perfection of the enforcement of sharia principles in sharia financing institutions is not enough only in the aspect of transactional mechanisms, it needs to be supported by a sharia-based risk management system. The focus of this research includes the characteristics of Islamic financing, juridical aspects in the principle of prudence, and an overview of the maslahah of the urgency of sharia-based risk management. This research is normative legal research using a statutory approach and a benefits approach with a qualitative descriptive analysis. The results of the discussion show that a dynamic system also needs to be supported by juridical aspects to provide the legal force with the realization of regulatory solidity. At this regulatory level, in addition to the regulations issued by the OJK, the DSN-MUI fatwa is also very necessary and has a very urgent position. Because financing risk management is also part of the sharia economy that must maintain sharia principles, lest the application of sharia principles only exists in product technicalities, but does not apply to technical risk management. The expected sharia is the application of total sharia principles (kaffah), not partial ones.
Downloads
Download data is not yet available.
References
Abdullah, Daud Vicary, dan Keon Chee. Buku Pintar Keuangan Syariah. Diterjemahkan oleh Satria Wahono. Jakarta: Zaman, 2012.

Azhari, Fathurrahman. Qawaid Fiqhiyyah Muamalah. Banjarmasin: Lembaga Pengembangan Kualitas Umat, 2014.

Basri, Rusdaya. "Ibnu Qayyim al-Jawziyyah tentang Pengaruh Perubahan Sosial." Al-Manahij: Jurnal Kajian Hukum Islam 9, no. 2 (2015): 193-206. https://doi.org/10.24090/mnh.v9i2.489.

Bugha, Musthafa Dib al-. Kompilasi Hukum Islam ala Madzhab Syafi'i. Surabaya: al-Hidayah, 2009.

Djamil, Fathurrahman. Filsafat Hukum Islam. Jakarta: Logos Wacana Ilmu, 1997.

Faozan, Akhmad. "Pola dan Urgensi Positivisasi Fatwa-Fatwa Dewan Syariah Nasional Majelis Ulama Indonesia tentang Perbankan Syariah di Indonesia." Al-Manahij: Jurnal Kajian Hukum Islam 10, no. 2 (2016): 309–21. https://doi.org/10.24090/mnh.v10i2.941.

Fauzan, Muhammad. Mengenal Lebih Dekat Perbankan Syariah dan Lembaga Lainnya Disertai Dengan Fatwa DSN-MUI. Makassar: Pena Indis, 2014.

Gandapradja, Permadi. Dasar dan Prinsip Pengawasan Bank. Jakarta: Gramedia Pustaka Utama, 2004.

Hafidah, Noor. Hukum Jaminan Syariah & implementasinya dalam perbankan syariah di Indonesia. Yogyakarta: UII Press, 2017.

Handoko, T. Hani. Manajemen. Yogyakarta: BPFE-Yogyakarta, 2003.

Hardiani, Isriani, dan Muh. H. Giharto. Kamus Perbankan Syariah. Bandung: Marja, 2007.

Hidayatullah, Muhammad Syarif. "Islamic Economics And Partial–Total Religiosity: A Case Study Of Majlis Taklim In Banjarmasin." Islamuna: Jurnal Studi Islam 7, no. 1 (12 Juni 2020): 36–55. https://doi.org/10.19105/islamuna.v7i1.3308.

Hidayatullah, Muhammad Syarif. Perbankan Syariah: Pengenalan Fundamental dan Pengembangan Kontemporer. Banjarbaru: Dreamedia, 2017.

Ikatan Bankir Indonesia. Mengelola Bisnis Pembiayaan Bank Syariah. Jakarta: Gramedia Pustaka Utama, 2015.

Islam, KM Anwarul, dan Orobah Ali Barghouthi. "Risk Management of Islamic Banking: An Islamic Perspective." International Journal of Islamic Banking and Finance Research 1, no. 1 (2017): 25–28.

Isma'il, Muhammad Muhammad. al-Fikr al-Islâm. Beirut: al-Maktabah al-Wa'i, 1958.

Jaizani, Muhammad bin Husain bin Hasan al. Ma'âlim Ushûl al-Fiqh 'Ind Ahl as-Sunnah wa al-Jama'ah. Mesir: Dar Ibn al-Jauzi, 1427.

Jalagat, Revenio. "The impact of change and change management in achieving corporate goals and objectives: Organizational perspective." International Journal of Science and Research 5, no. 11 (2016): 1233–39.

Jauziyyah, Muhammad bin Abu Bakr bin Qayyim al. I'lam al-Muwaqqi'in 'an Rabb al-'alamin. Vol. 1. Kairo: Maktabah al-Kulliyat al-Azhariyah, 1968.

Karim, Adiwarman A. Bank Islam: Analisis Fiqih dan Keuangan. Jakarta: Raja Grafindo Persada, 2008.

Laela, Sugiyarti Fatma. "Kualitas Laba dan Corporate Governance: Benarkah Kualitas Laba Bank Syariah Lebih Rendah dari Bank Konvensional?" Jurnal Akuntansi dan Keuangan Indonesia 9, no. 1 (2014): 22–42.

Nawawi, Ismail. Fikih Muamalah Klasik dan Kontemporer. Bogor: Ghalia Indonesia, 2012.

Nofrianti, Mami. "Perkembangan Hukum Islam Pada Masa Umar Ibn Khattab (634-644 M)." Juris: Jurnal Ilmiah Syariah 17, no. 2 (31 Desember 2018): 269–82. https://doi.org/10.31958/juris.v17i2.1173.

Obaidullah, Mohammad. "Islamic risk management." International Journal of Islamic Financial Services 3, no. 4 (2002): 291–311.

Pelu, Ibnu Elmi Achmat Slamat, dan Jefry Tarantang. "Fatwa Majelis Ulama Indonesia Sebagai Solusi Permasalahan Umat Islam Di Indonesia." Al-Manahij: Jurnal Kajian Hukum Islam 14, no. 2 (3 Desember 2020): 307–16. https://doi.org/10.24090/mnh.v14i2.3927.

Qaradawi, Yusuf al. Fiqih Maqashid Syariah: Moderasi Islam antara Aliran Tekstual dan Liberal. Diterjemahkan oleh Arif Munandar Riswanto. Jakarta: Pustaka al-Kautsar, 2006.

Ramlan, Sitti Ruwaida, Silcyljeova Moniharapon, dan Joy Elly Tulung. "Analisis Perbandingan Risiko Kredit Antara Bank Syariah Dan Bank Konvensional." Jurnal EMBA: Jurnal Riset Ekonomi, Manajemen, Bisnis dan Akuntansi 6, no. 1 (26 Februari 2018). https://doi.org/10.35794/emba.v6i1.19019.

Rivai, Veithzal, dan Andria Permata Veithzal. Islamic Financial Manaement: Teori, Konsep dan Aplikasi Panduan Praktis untuk Lembaga Keuangan, Nasabah, Praktisi, dan Mahasiswa. Jakarta: RajaGrafindo Persada, 2008.

Rodliyah, Nunung, Nila Nargis, dan Abdur Rohman Husen. "Kedudukan Fatwa Terhadap Dasar Hukum Penyelesaian Sengketa Ekonomi Syariah Melalui BASYARNAS." Nizham Journal of Islamic Studies 7, no. 01 (12 Juli 2019): 1–16.

Roghanian, Parastoo, Amran Rasli, dan Hamed Gheysari. "Productivity through effectiveness and efficiency in the banking industry." Procedia-Social and Behavioral Sciences 40 (2012): 550–56.

Salma Barlinti, Yeni. "Kedudukan Fatwa Dewan Syariah Nasional Dalam Sistem Hukum Nasional di Indonesia." Universitas Indonesia: Fakultas Hukum, Program Doktoral Pascasarjana, Disertasi, 2010.

Sovia, Sasa Elida, Muhammad Saifi, dan Achmad Husaini. "Analisis Perbandingan Kinerja Keuangan Bank Konvensional Dan Bank Syariah Berdasarkan Rasio Keuangan Bank (Studi pada Bank Konvensional yang Terdaftar di BEI yang Memiliki Bank Syariah Periode 2012-2014)." Jurnal Administrasi Bisnis 37, no. 1 (2016): 129–36.

Suryani, Irma. "Metode Fatwa Majelis Ulama Indonesia." JURIS (Jurnal Ilmiah Syariah) 9, no. 2 (23 Februari 2018): 175–84. https://doi.org/10.31958/juris.v9i2.915.

Syaltut, Muhammad. al-Islam: 'Aqidah wa Syari'ah. Kairo: Dar al-Qalam, 1996.

Syinqiti, Muhammad al-Amin bin Muhammad al Mukhtar bin 'Abd al-Qadir al-Jakni asy. al-Mashalih al-Mursalah. Madinah: al-Jami'ah al-Islamiyyah, 1990.

Wahyudi, Firman. "Mengontrol Moral Hazard Nasabah Melalui Instrumen Tazir dan Tawidh." Al-Banjari: Jurnal Ilmu-ilmu Keislaman 16, No. 2, 2017.

Widarjono, Agus, MB Anto, dan Faaza Fakhrunnas. "Financing Risk in Indonesian Islamic Rural Banks: Do Financing Products Matter?" The Journal of Asian Finance, Economics, and Business 7, no. 9 (2020): 305–14.

Wirdyaningsih, Karnaen Perwataadmadja, Gemala Dewi, dan Yeni Salam Barlinti. Bank dan Asuransi Islam di Indonesia. Jakarta: Kencana Prenada Media, 2005.

Yusuf, Muhammad Yasir. "Dinamikna Fatwa Bunga Bank di Indonesia: Kajian terhadap Fatwa MUI, Muhammadiyah, dan Nahdlatul Ulama." Media Syariah: Wahana Kajian Hukum Islam dan Pranata Sosial 14, no. 2, 2012.

Zuhaili, Wahbah al-. Al-Fiqh al-Islami wa Adillatuhu, vol. 1. Damaskus: Dar al-Fikr, 1985.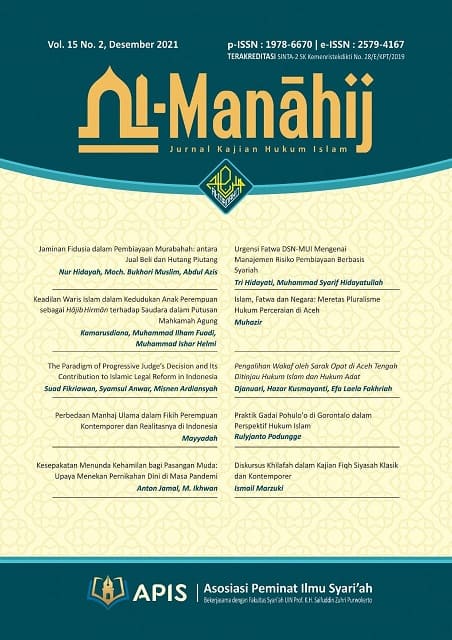 Downloads
How to Cite
Hidayati, T., & Hidayatullah, M. S. (2021). Urgensi Fatwa DSN-MUI Mengenai Manajemen Risiko Pembiayaan Berbasis Syariah. Al-Manahij: Jurnal Kajian Hukum Islam, 15(2), 201–220. https://doi.org/10.24090/mnh.v15i2.4641
License
Authors who publish with this journal agree to the following terms:
Authors retain copyright and grant the journal right of first publication with the work simultaneously licensed under a Creative Commons Attribution License that allows others to share the work with an acknowledgement of the work's authorship and initial publication in this journal.
Authors are able to enter into separate, additional contractual arrangements for the non-exclusive distribution of the journal's published version of the work (e.g., post it to an institutional repository or publish it in a book), with an acknowledgement of its initial publication in this journal.
Authors are permitted and encouraged to post their work online (e.g., in institutional repositories or on their website) prior to and during the submission process, as it can lead to productive exchanges, as well as earlier and greater citation of published work (See The Effect of Open Access).